The fifth-generation Ram 1500 hit showrooms in 2019, and other than a revised diesel engine and a few new packages, it's remained otherwise unchanged. With its look still fresh, we expect the 2021 Ram 1500 to arrive as a carryover model.
Stretching back to its Dodge Ram days, the Ram 1500 has never been one for big changes, and the 2019 redesign followed this path with its light stylistic updates that included massaged headlights, a new grille, revised bumper and a handful of other bits. Where the new-generation Ram 1500 really made its mark was in weight loss, as it dropped nearly 225 pounds by switching to high-strength steel and other materials. We expect this look and the weight savings to remain the same in the 2021 Ram 1500.
Inside, the redesigned Ram 1500 made more of a stylistic mark with a revised dashboard that boasts additional creases and shapes that add a little extra pizazz to its once-bland cabin. It also gained a new four-post steering wheel, larger touchscreen options, a more robust infotainment system, 4G Wi-Fi, a reworked HVAC interface, and other nips and tucks. We expect the 2021 Ram 1500 to hit showrooms with the same interior design.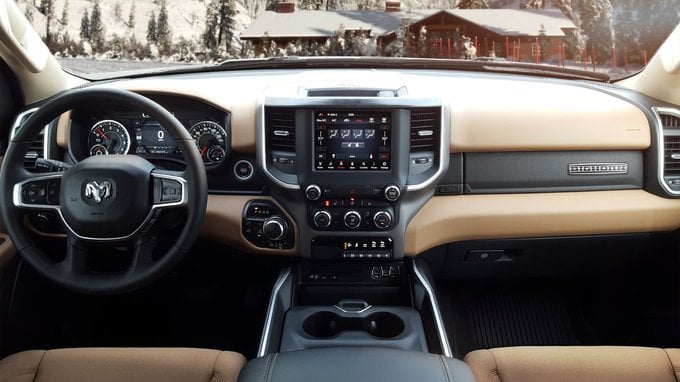 The current Ram 1500 has several engine options, starting with a 3.6-liter V6 with the eTorque mild-hybrid system that launches the Ram off the line under electric power. The 3.6-liter V6 produces 305 horsepower and 269 pound-feet of torque. Next up is the 5.7-liter HEMI V8 that's available with or without the eTorque system. This V8 delivers 395 hp and 410 lb-ft of torque. At the top of the powertrain heap is the 3.0-liter turbodiesel V6 that delivers 260 hp, 480 lb-ft of torque, and up to 32 miles per gallon highway. All three engines pair with an eight-speed automatic transmission and rear- or four-wheel drive.
The Ram 1500 performed admirably in IIHS testing, as it received "Good" ratings in all crash tests while its optional automatic emergency braking system earned a "Superior" rating. There is one flaw in the current Ram, and that's in its headlights. The extended cab model has only the traditional halogen lights, which received a "Marginal" rating. The crew cab model, however, has optional LED headlights that received a rare "Good" rating from the IIHS. This adds up to the crew cab models earning IIHS Top Safety Pick+ status – a rarity among pickups – but the extended cab is not a Top Safety Pick because of the headlights.
While we expect the safety features and crash-test ratings to carry over into the 2021 Ram 1500, this pickup will likely lose its Top Safety Pick status due to qualification updates. The newest Top Safety Pick guidelines require at least a superior-rated vehicle-to-pedestrian automatic emergency braking rating, and the Ram 1500's system is only vehicle-to-vehicle. Also, the Tops Safety Pick+ designation now requires "Acceptable"- or "Good"-rated headlights, and the current Ram 1500's standard headlights are the "Marginal"-rated halogen units.