The Subaru Forester went through a redesign in 2019, bringing about its fifth generation. Like nearly every Subaru redesign, this was more of an evolutionary redesign, as it mostly included a massaged body, upgraded cabin, and small engine tweaks. The Forester remained mostly unchanged in 2020, and we expect the 2021 Forester to do the same.
Visually, we expect the 2021 Forester to hit showrooms with no changes, which means it'll arrive with the same upright stance, bold grille, sharp body lines, and 8.7 inches of ground clearance as the current model. Like many Subaru models, the Forester delicately combines off-road ruggedness with style. We also expect its standard exterior features to remain the same, including its 17-inch steel wheels, LED headlights, and black mirrors.
Inside, the current Subaru Forester has a relatively basic design with a mostly black color scheme and touches of metallic accents, a three-knob HVAC system, rectangular air vents, and plenty of other inoffensive design cues. Though it's simple, the 2020 Forrester's cabin is well-equipped with standard Apple CarPlay and Android Auto, 6.5-inch touchscreen, dual front USB ports, automatic climate control, four-speaker audio system, and more. We expect the 2021 Forrester to include the same interior design and standard features.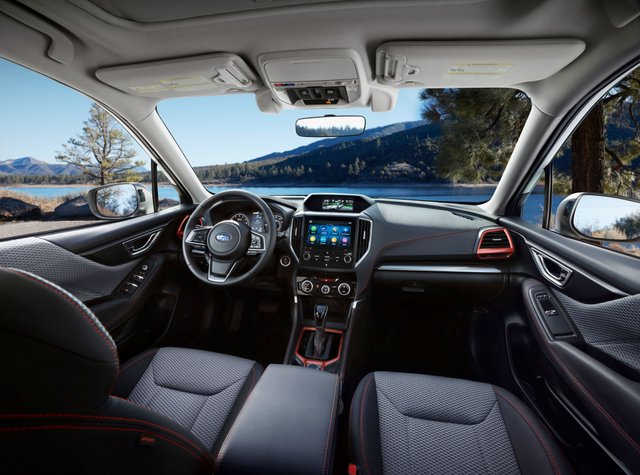 The 2020 Forester includes a 2.5-liter four-cylinder engine that produces 182 horsepower. This power routes through a continuously variable transmission and out to the front wheels. Buyers can opt for all-wheel drive.
Safety is a focal point for Subaru, and it shows with the current Forester's IIHS Top Safety Pick+ rating and its array of standard safety features. The latter includes adaptive cruise control, automatic emergency braking, lane-departure and sway warning, and lane-keep assist. We expect these features and ratings to remain the same in the 2021 Forester.
This compact crossover will compete with the Ford Escape, Honda CR-V, and Toyota RAV4.
Check prices for the 2021 Subaru Forester »
Pictured: 2020 Subaru Forester