Subaru introduced the new-generation Legacy for the 2020 model year. Like many Subaru redesigns before it, the visual changes were subtle but enough to keep it rumbling on for a handful of years. With it entering just its second model year since the redesign, the 2021 Subaru Legacy will be a carryover.
The new-generation Subaru Legacy migrated to the more rigid Subaru Global Platform but rolled in with just massaged styling relative to its previous generation. Its visual updates included a new grille and front fascia, updated lights with new LED signatures, wider fenders, and smoother sheet metal down the sides. Its backside received a more squared-off look with brand-new taillights and an updated bumper.
Inside, the new-generation Legacy's updates were a little more significant, as this sedan went more upscale with a new instrument panel design that includes more contrasting colors and shapelier air vents. In its higher trims, the Legacy pushes the bounds of luxury with available Nappa leather upholstery, a massive 11.6-inch infotainment touchscreen, and 4G LTE Wi-Fi.
Further enhancing the high-quality feel of this cabin was additional sound-deadening equipment, including new weather stripping and sound-deadening glass, which reduced ambient cabin noise by 3 dB.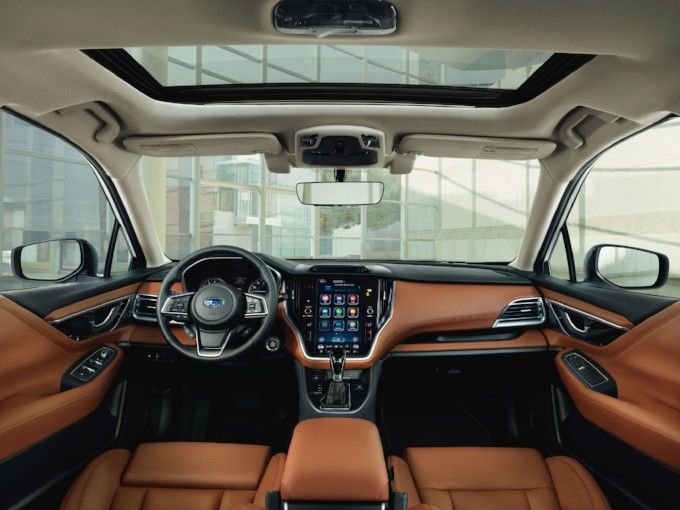 While its stylistic changes may have been subtle, there was nothing subtle about the new-generation Legacy dropping the optional 3.6-liter flat-six engine it's offered for many years and replacing it with a 260-horsepower turbocharged 2.4-liter in the XT trim. The standard engine, however, went through a less dramatic rework, as it remained a 2.5-liter flat-four-cylinder unit but with a 7-hp power boost to 182 hp. Regardless of the engine, the new-generation Legacy comes standard with a continuously variable transmission and all-wheel drive.
There are no safety ratings yet on the new-generation Legacy, but the previous generation was an IIHS Top Safety Pick+. Considering the new-generation sedan has a stiffer platform and adds lane centering to its already robust standard safety tech, which includes automatic emergency braking, we expect the new-generation Legacy to continue as a Top Safety Pick when crash tests are complete.
This midsize sedan will compete with the Hyundai Sonata, Nissan Altima, and Toyota Camry.
Check prices for the 2021 Subaru Legacy »
Pictured: 2020 Legacy