The Subaru Outback just entered its sixth generation in 2020, but you'd be hard-pressed to find what actually changed. As is typical for the brand, Subaru lightly updated the iconic Outback utility wagon's visuals but spent a lot of time under the skin and inside the cabin. With it entering just the second model year of its sixth generation, we expect the 2021 Subaru Outback to hit showrooms as a carryover model.
When placed side by side, one can almost spot all the differences between the last- and current-generation Outback models. Even then, this is about a 12th-grade-level spot-the-differences game. There is an updated grille, restyled lower body cladding that extends over the wheels, a new front bumper, new taillights, and a revised rear bumper. With these updates still fresh – at least in Subaru's eyes – we expect no visual changes in the 2021 Outback.
Inside, the spot-the-difference game is much easier with the new-generation Outback's updated steering wheel, new center console, updated instrument panel and gauges, and humongous 11.6-inch optional infotainment screen. Like the exterior, this new look and the new features are still fresh, so we expect no big updates inside the 2021 Subaru Outback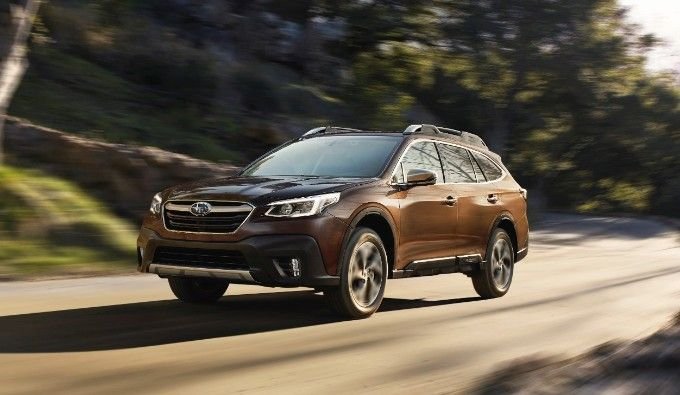 Under the hood was where Subaru spent most of its tinkering time with the new-generation Outback, as this off-roading wagon got an updated 2.5-liter boxer-four engine with 182 horsepower paired with a continuously variable transmission. Buyers who pick the optional engine now see a 260-hp turbocharged 2.4-liter engine in place of the old boxer-six engine. All-wheel drive is, of course, standard. We expect all the 2021 Outback's under-hood bits to remain.
The IIHS still has not thrown the new-generation Outback into a wall or two, but the last-generation model was a Top Safety Pick+ with its "Good" scores in every crash test, "Good" headlight score with the optional LED projector lights, and "Superior" front crash prevention score with its standard automatic emergency braking. The new-generation Outback arrived with standard advanced safety equipment like automatic emergency braking, adaptive cruise, lane-keep assist, and more, so we expect high marks once the IIHS gets to smashing it.