The 2021 Tesla Model 3 will be a carryover model with incremental changes. Tesla's smallest electric vehicle will continue to be a part of the first generation that came out in 2017.
On the outside, things for the Model 3 will remain the same for the 2021 model year. That means the sedan will feature a sleek, simplistic design with futuristic touches. The front end has a smooth, design without a grille that has now become iconic. The silhouette and roofline have been designed to help the Model 3 flow through the air, which also explains why the sedan's door handles sit flush with the body. The rear end features a natural rear spoiler, triangular taillights, and an uncluttered design.
The current Model 3's interior is far more futuristic than its exterior design. Uncluttered and minimalistic in every sense of the words. There are no gauges, no hard buttons or dials, and no instrument cluster. Instead, everything is displayed and controlled via an enormous 15-inch touchscreen.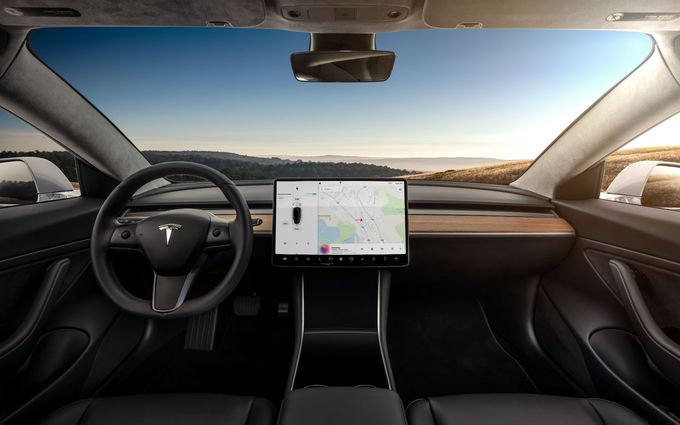 Despite being the most affordable Tesla, the Model 3 comes packed with all sorts of high-tech features. Wi-Fi hot spot, navigation, a 14-speaker audio system, four standard USB ports, and over the air updates. You won't find Apple CarPlay and Android Auto with the Model 3. Tesla offers a subscription-based Premium Connectivity Package for $9.99 a month that brings video streaming capability, satellite-view maps, and live traffic visualization. We expect the package to be free for the first 30 days of ownership.
Tesla offers the current Model 3 in three variants, which we expect to carry over to the 2021 model year. Standard Range Plus, Long Range, and Performance are the three available trim levels for the Model 3. The Standard Range Plus comes with rear-wheel drive and one electric motor. Range is rated at 250 miles, top speed maxes out at 140 mph, and the sedan can get to 60 mph from a standstill in 5.3 seconds.
Both the Long Range and Performance trims come with two electric motors and all-wheel drive. The Long Range trim can travel up to 322 mph, hit a top speed of 145 mph, and go from zero to 60 mph in 4.4 seconds. The Performance trim trades range for performance. Range is rated at 299 miles, the vehicle can hit a top speed of 162 mph, and zero to 60 mph takes just 3.2 seconds.
The Model 3 comes with blind spot monitoring, automatic emergency braking, adaptive cruise control, and lane keeping assist as standard. Tesla's Full Self-Driving Capability package is available for an additional $7,000. It brings automated parking, fully automated highway driving from on-ramp to off-ramp, auto lane change, traffic light and stop sign control, and a summon feature that allows the parked car to come to the owner's location.
In testing conducted by the National Highway Traffic Safety Administration (NHTSA), the current Model 3 earned a five-star overall safety rating. The Insurance Institute for Highway Safety (IIHS) named the sedan a Top Safety Pick Plus.