When the Toyota Mirai debuted in 2016, it arrived with an eye-opening hydrogen fuel-cell powertrain and a design to match. While its looks stood out in a crowd, it wasn't in a good way, as many found its appearance way to wild and reminiscent of the era of crazy electric vehicle styling that dominated the early years of green vehicles. Toyota looks to smooth out the Mirai's looks out with a redesigned 2021 model, and we got a glimpse of what to expect with a sharp concept.
The 2021 Mirai Sedan Concept is nothing short of a reboot, as it shows off a stunning coupe-inspired look that is a complete about-face from the current model. With it switching to a rear-drive platform, this gave Toyota a lot more freedom in the design phase, so it took advantage of this with a longer hood, coupe-like rear roofline, smooth sheet metal down the sides, and more. Around back, its striking LED taillights connect via a thin light bar, visually enhancing its width and giving it a recognizable backside.
Up front, the 2021 Mirai Sedan Concept isn't void of all funky styling, as its hood and fascia come together near the center to create almost a rounded nose flanked by headlights that cut deep into the fenders.
Inside, the 2021 Mirai Sedan Concept looks to correct the sloppy design of the current model with a simpler and more luxurious design. This new-look interior is far more traditional but isn't free of any uniqueness, as there is a sleek accent that flows up the driver's side of the center stack and shoots across the passenger's side of the instrument panel. Tech gets a significant upgrade with a 12.3-inch high-resolution touchscreen, a 14-speaker JBL audio system, and an 8-inch digital instrument cluster. The Mirai Sedan Concept also gets a new seating arrangement, dropping the four-seat setup in favor of a more family-friendly five-passenger capacity.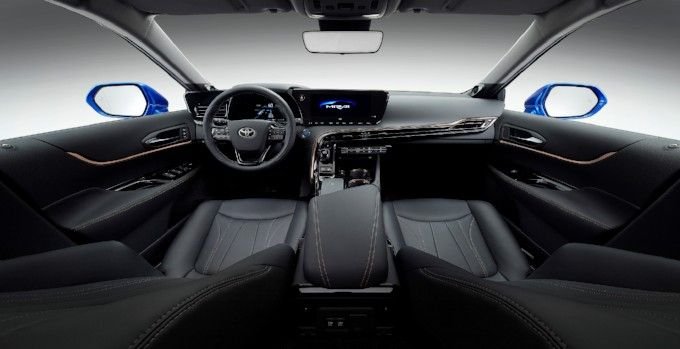 Toyota hasn't released the full details on the next-generation Mirai's powertrain, but it did give us a few hints. Of course, it will remain a hydrogen fuel cell setup that uses hydrogen to create electricity to drive the motor while emitting nothing but water from its tailpipe. Toyota will increase the new-generation Mirai's hydrogen capacity with a goal of a 30% driving range increase, which would bring its max cruising distance on a full hydrogen tank to about 406 miles. The other big change is the aforementioned switch to rear-wheel drive.
There are no safety tests on the current Mirai because Toyota sells so few of them in limited areas only. It does, however, come standard with automatic emergency braking, blind-spot monitors, and lane-keep assist. Toyota noted enhanced safety equipment in its preview of the Mirai Sedan Concept but revealed no specifics.