In 2019, Toyota released the stunning, new RAV4 with an upright SUV-like look combined with easy-to-drive crossover running bits. The 2021 RAV4 will remain mostly a carryover model when in rolls in, save for one huge update: a plug-in-hybrid model.
Visually, the 2021 Toyota RAV4 will hit showrooms with the same striking look it gained when the new-generation model arrived in 2019. This upright look caters to the crowd seeking a more rugged SUV while its crossover underpinnings make it as easy to drive as ever. The initial image of the 2021 RAV4 shows no significant style changes, but Toyota announced a new Supersonic Red color option for the upcoming plug-in-hybrid model.
Inside, the new-generation RAV4 brought in a more stylish cabin that included a stubby gear shifter, a more upright dash, a dash-top infotainment screen, and unique color options. The latter is especially true with the contrast stitching and piping in the off-road-ready Adventure model. We expect some mild style changes inside the 2021 RAV4 Plug-In Hybrid, as it will gain an instrument cluster tuned for eco-friendly drivers. For the most part, though, we expect these changes to be subtle.
Under its hood, we expect the bulk of the 2021 RAV4's powertrain options to remain the same, including its standard 2.5-liter four-cylinder with 203 horsepower and 184 pound-feet of torque. The hybrid model will also use a 2.5-liter four-cylinder engine, but the electrification pushes its power to 219 hp. The standard RAV4 will pair its engine with an eight-speed automatic transmission and front-wheel drive as standard, but all-wheel drive will be available. The RAV4 Hybrid will continue with a continuously variable transmission and standard all-wheel drive.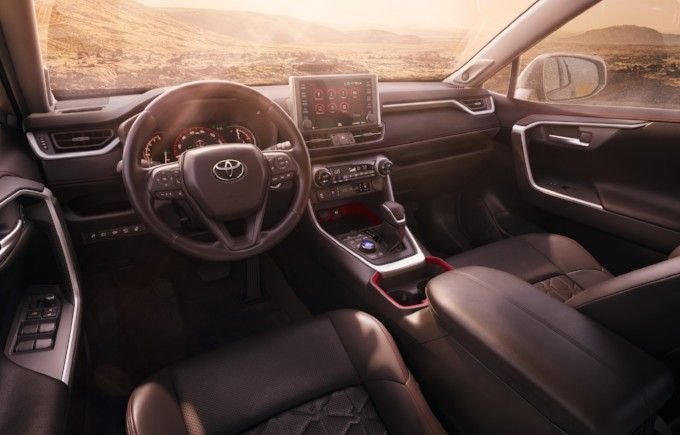 The big under-hood change for the 2021 RAV4 will be the new plug-in hybrid. Toyota hasn't given any official details on this new plug-in crossover's driving bits, but its claim of this being "the most powerful RAV4 yet" provides us with a hint. If Toyota means it is the most-powerful current RAV4, then we know it will have at least 220 hp, which is 1 hp more than the hybrid model. If Toyota is literal with its statement, then we need to look to the mid-2000s RAV4 V6, which had 269 hp. This would mean the plug-in model would have at least 270 hp, which could make it a respectable performer.
The current RAV4 is an IIHS Top Safety Pick+ thanks to "Good" scores in all tests and a "Superior" score in front-crash prevention. What's more, the latter requires no pricey options, as this score is with the standard Toyota Safety Sense 2.0 suite of stay-safe equipment, including automatic emergency braking. We expect these ratings to remain the same in the new RAV4.
The new RAV4 will compete with the Honda CR-V,Ford Escape, and Nissan Rogue.
Check prices for the 2021 Toyota RAV4 »
Pictured: 2020 RAV4