Reports indicate the new-generation Volkswagen Golf will, for the most part, be unavailable in the U.S. Only its Golf R variant will make its way here. Reports also indicate a redesigned version of the Golf's spinoff GTI will also be a part of the U.S. lineup when it arrives in 2021.
There is not a lot of fat to chew about the 2021 Volkswagen GTI, as the automaker has kept things mostly under wraps. The few spy shots of the base Golf floating around the web give us a basic idea of what to expect.
These images show off the same general proportions but with a harder slope near the front of the hood that results in a thinner grille and more compact wraparound headlights. Around back, VW tried hiding the taillights with its famed pasties, but the outline of the lights pushes through to reveal thinner, more angular units. The GTI will spice up this design with performance wheels, a more aggressive front bumper and air inlets, and a sportier rear bumper.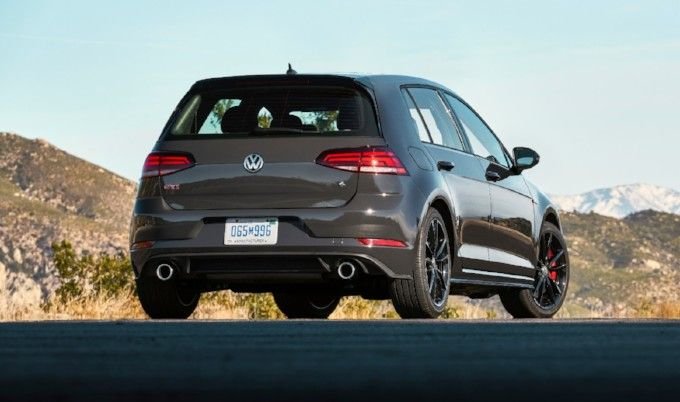 A veil of secrecy lies over the 2021 VW GTI's interior, but the new-generation Jetta GLI may give us a glimpse at what we can expect. The new Jetta GLI gained a clean cabin with very few knobs and buttons cluttering things up, an available LCD gauge cluster, and an available 8-inch touchscreen infotainment system. Of course, we expect the 2021 GTI's to also boast many of the Jetta GLI's sporty touches, like heavier seat bolstering, a flat-bottom steering wheel, red ambient lighting and contrast stitching, and more.
Underhood equipment remains unclear for the 2021 VW GTI, but we could see an uptick in power when it arrives. The current model's 2.0-liter turbocharged four-cylinder pumps out 228 horsepower and pairs with a standard six-speed manual or an optional seven-speed dual-clutch automatic. We could see VW bumping this hot hatchback as high as 250 horsepower in the new generation, given the Golf R gets a similar power boost. If there is no increase for the R, the GTI may remain the same or see only a small increase to avoid cannibalizing.
Safety equipment also remains uncertain, but with the current Jetta GLI boasting standard automatic emergency braking, we'd expect at least the same from the next-gen GTI. Other safety goodies, like lane-keep assist, automatic high-beam headlights, rear cross-traffic alert, and adaptive cruise are sure to be available too.