Volkswagen is making the transition from diesel engines to electric vehicles, with multiple models planned. Among the first ones we'll see will be based on the I.D. CROZZ concept, a four-door all-wheen-drive SUV, and will go by the name ID.4.
The new model is expected to arrive in 2021, sharing its platform with the 2022 I.D. BUZZ, based loosely on the original Bus design.
As for the SUV, Volkswagen says that it will have an all-electric driving range of up to 300 miles. That compares favorably with the Tesla Model 3's 310-mile range and the Chevrolet Bolt's 238-mile range.
Volkswagen says the ID.4 will feature a 150-kilowatt electric motor with an output of 200 horsepower between the rear wheels and a 75-kilowatt electric motor generating 100 horsepower between the front wheels. The rear motor will be always operational, while the front motor will kick in while needed. Thus, the ID.4 is an all-wheel-drive SUV.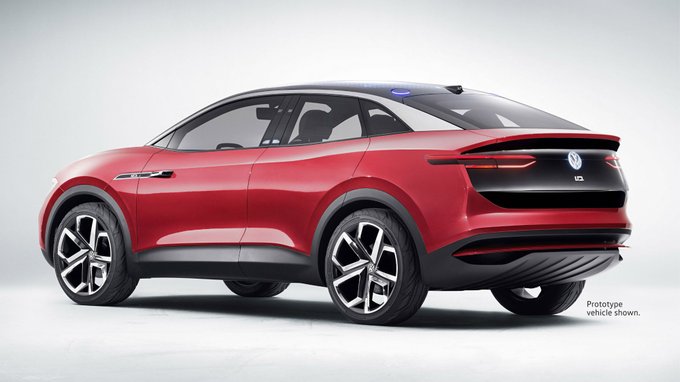 We're expecting a 48/52 weight distribution between the front and rear axles. The ID.4's low center of gravity is due to the positioning of the lithium-ion battery underneath the cabin floor.
This 83-kilowatt-hour battery pack should recharge to 80 percent of its power in just 30 minutes with a fast charger. This would position the ID.4 to compete effectively with ICE (internal combustion engine) models for people taking long trips.
Like most concepts, the current ID.4 is subject to change, especially from a design standpoint. Still, if Volkswagen retains many of the elements of the concept, we'll soon see one of the most fluidic models from this manufacturer, indeed among all SUVs.
The current design features Volkswagen's familiar horizontal grille, although it is narrow and there for decorative purposes only. A bolstered hood, strong shoulders, long flowing body lines and sculpting along with massive wheel arches suggest strength. The roof itself flows downward as the beltline lifts upward. This SUV's black-out rear is highlighted by narrow wraparound tail lamps.
Inside, are four captain's chairs and a thoroughly modern dashboard. A panoramic roof gives the cabin a wide open feeling.