The 2020 Volkswagen Passat went through a significant refresh, giving the automaker a fresh take on its midsize sedan. With this design still so new, we expect the 2021 Passat to hit showrooms as a carryover model.
The 2020 Passat's refresh is easy to mistake as a complete redesign, as the automaker replaced every piece of sheet metal other than its roof panel, giving it a more coupe-like look. This gave it a sharper hood with additional ridges, sleeker fenders and doors, and a refreshed trunk lid. Replacing hard parts was not all VW did, as the 2020 Passat's soft parts also got a complete overhaul, including thinner wraparound taillights, sleeker headlights, a larger grille, and a new front bumper with vertical flics on the ends on the R-Line model. We expect the 2021 VW Passat to carry on with the same looks.
Inside, the refreshed Passat received an equally comprehensive rework that gave it a more premium look. This update included sharp horizontal dashboard lines, a long horizontal insert on the passenger's side, and wider air vents that visually widen the space. This refresh also brought in a revamped center stack with a trapezoidal infotainment system with a glass housing to further enhance its premium feel. We expect this new look to remain the same when the 2021 Passat hits showrooms.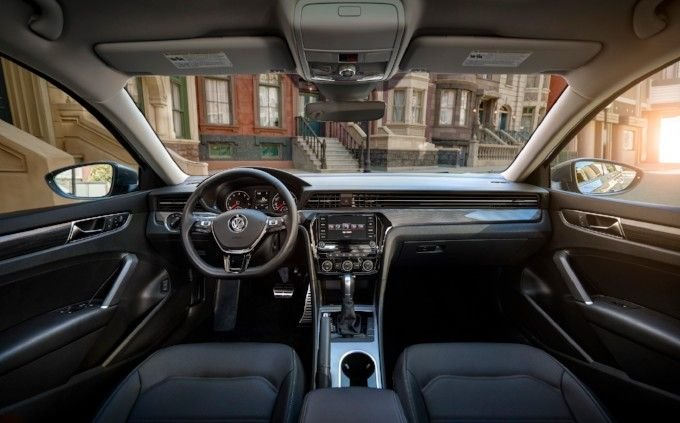 Under the 2021 VW Passat's hood, we expect no changes at all. If this proves to be the case, then it will continue with the same 2.0-liter turbocharged four-cylinder engine that delivers 174 horsepower and 206 pound-feet of torque. This power will continue to head to the front wheels only via a six-speed automatic transmission.
The IIHS has not put the refreshed Passat through full testing yet, but it has been through all the crash tests and received "Good" ratings in them all. We are still waiting on headlight and forward-crash-prevention tests to find out if it is a Top Safety Pick. What we know is the current Passat comes standard with the safety gear needed to ace the latter, as all Passats include automatic emergency braking. Other available safety equipment includes automatic emergency braking with pedestrian detection, blind-spot monitoring, rear cross-traffic alert, adaptive cruise control, lane-keep assist, parking steering assist, and more. We expect the 2021 Passat to continue unchanged in the safety department.