In 2018, Volkswagen introduced the redesigned Tiguan, which resulted in a significantly longer body, more interior room, and a third row. With this model still relatively fresh, we expect the 2021 Tiguan to hit showrooms as a carryover model ahead of a major mid-cycle update for the 2022 model year.
The redesigned Tiguan grew by 10.6 inches in length, giving loads more interior space. It also gained a new design that included bolder lines, a wider stance, and a new grille and headlight design that has made its way across the brand's entire lineup. With this look still fresh and relatively timeless, we expect no changes when the 2021 Tiguan arrives.
Inside, the new-generation Tiguan gained tons of in-cabin space, as its longer body gave it a standard third row (optional with all-wheel drive) and 58% more cargo capacity. The interior's design was all-new too in 2018, but like most VW cabins, it remained relatively toned down with plenty of straight horizontal lines, a large dash-integrated touchscreen, and a simple climate-control interface. The only unique touches this interior brought was an available digital instrument cluster and a flat-bottom steering wheel. We expect this cabin to remain the same in the 2021 Tiguan.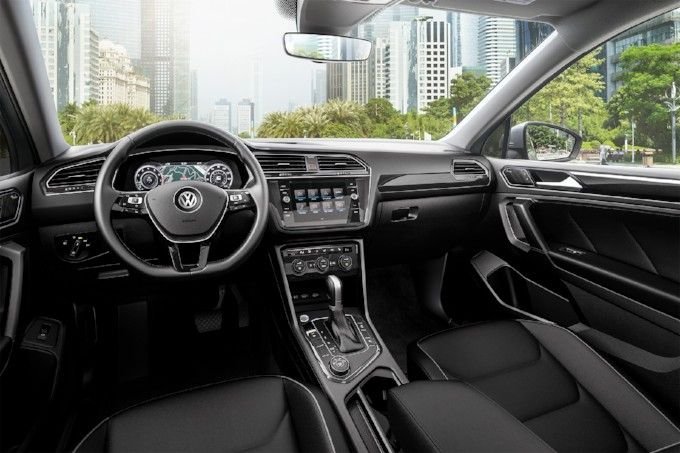 Also expected to remain unchanged is the Tiguan's standard 2.0-liter turbocharged four-cylinder engine that pumps out 184 horsepower and 221 pound-feet of torque. This engine will continue to pair with an eight-speed automatic transmission that ships power to the front wheels or all four.
The current VW Tiguan is an IIHS Top Safety Pick+, but to reach this level of safety, buyers must opt for the LED projector headlights, as the standard halogens received a "Poor" rating. Fortunately, there are no options necessary to hit the mark in forward-crash prevention, as the current Tiguan's standard automatic emergency braking received a "Superior" rating. We expect all the IIHS safety ratings to continue unchanged in the 2021 Tiguan.