The BMW X4 came out as a fully redesigned model in 2019, giving the German automaker a competitive option in the compact SUV segment. With the X4 entering its fourth model year on sale since the full redesign, we expect the 2022 BMW X4 to be a carryover model.
When BMW introduced the completely updated X4 in 2019, the SUV arrived with unique styling and a body that was influenced by sporty coupes. The current X4 has an athletic, sporty design with tall front fenders, large grilles, massive exhaust outlets, and slim taillights. The most unique feature of the X4 is its sweptback rear end, which resembles a sedan instead of a traditional SUV. As a carryover model, we expect the 2022 BMW X4 to retain a lot of the same exterior design elements as the current model.
On the inside, we expect the 2022 X4 to look similar to the current model. The current X4 has a mixture of sporty and luxury on the inside with sharp angles, an angled center console, a thick steering wheel, and crisp gauges in the instrument cluster. BMW has positioned the X4's main infotainment dial and controls next to the shifter, giving the center console a streamlined look.
Standard tech features on the current X4 include a 10.3-inch touchscreen, a 12.3-inch digital instrument cluster, a 12-speaker audio system, navigation, Apple CarPlay, Android Auto, and two USB ports. These features should continue to be offered on the carryover 2022 X4.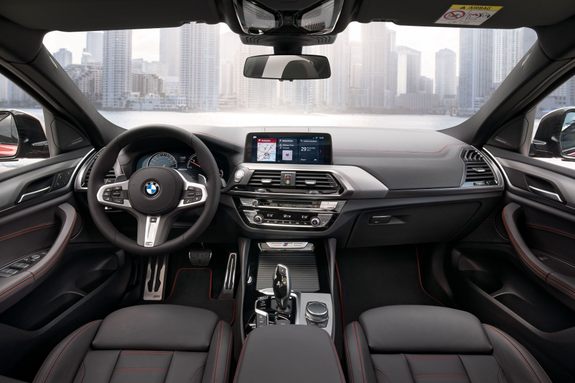 BMW offers the X4 with four different powertrains. The standard engine in the X4 is a turbocharged 2.0-liter four-cylinder engine that makes 248 horsepower. Higher trim levels come with a turbocharged 3.0-liter inline-six in three different states of tune. The inline-six engine is offered with 382 hp, 473 hp, and 503 hp. All X4 models come with all-wheel drive and an eight-speed automatic transmission. These engines should be available on the 2022 X4.
When it comes to standard safety features, the 2022 X4 is expected to come with all of the same features as the current model. Currently, the X4 comes with automatic emergency braking, forward collision warning, lane departure warning, pedestrian detection, lane keeping assist, rear cross traffic alert, blind spot monitoring, and parking sensors.