The Chevrolet Silverado 1500 was introduced as a fully-redesigned model in 2019. The full-size pickup truck arrived with a chip on its shoulder, and for its fourth model year on sale, we expect the 2022 Chevrolet Silverado 1500 to arrive as a carryover model with a refreshed exterior and interior. Chevy has recently confirmed an electric version of the Silverado which we expect to be available for the 2023 model year.
When the Silverado 1500 arrived in 2019, it featured a unique front end that helped it stand out in the competitive segment. For 2022, we expect Chevrolet to update the Silverado 1500's design to be less polarizing. The pickup truck is expected to get the latest version of the automaker's two-tiered grille design and have updated headlights. Changes won't be as dramatic as the back, though Chevrolet is expected to update the tailgate and rear bumper design for 2022.
On the inside, the 2022 Silverado 1500 will share a lot of the same interior design elements as the current model. That means heavy-duty materials, simple design elements, and clearly-labeled buttons and dials. The 2022 refresh is expected to bring an updated center console layout, as well as a redesigned instrument cluster.
When it comes to standard technology, we don't expect things for the 2022 Silverado 1500 to change that much. The current pickup comes with a 7-inch touchscreen, Apple CarPlay, Android Auto, Bluetooth, two USB ports, and two audio speakers. Optional features for the 2022 model year should be more high-tech than the current model's, which is available with an 8-inch touchscreen.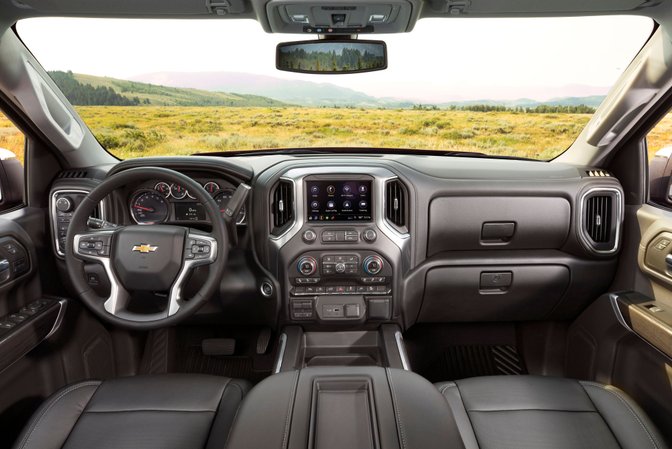 Chevrolet is expected to continue to offer five different engines with the 2022 Silverado 1500. The standard engine will be a 4.3-liter V6 engine that's paired with a six-speed automatic transmission. The V6 is rated at 285 horsepower and 305 pounds-feet of torque. A turbocharged 2.7-liter four-cylinder engine will be available, generating 310 hp and 348 lb-ft of torque. The four-cylinder engine is paired with an 8-speed automatic. A 5.3-liter V8 is the next engine in line, making 355 hp and 383 lb-ft of torque. The engine can be paired with a six-, eight-, or 10-speed automatic transmission. A turbocharged 3.0-liter inline-six diesel engine is the next step up. It's rated at 277 hp and 460 lb-ft of torque and comes with a 10-speed automatic. Lastly, the pickup can be fitted with a 6.2-liter V8 engine that's good for 420 hp and 460 lb-ft of torque. The V8 comes paired with a 10-speed automatic.
The current Silverado 1500 comes with a rearview camera and a teen driver system as standard. Modern advanced safety features are mostly optional. We expect the pickup truck's list of safety features to remain the same for the 2022 model year.