The Ford F-150 went through a full redesign in 2021, bringing in a new look, upgraded powertrain, and more. However, the F-150 Raptor was left out of the 2021 rework. With everything still fresh, we expect the 2022 F-150 to be mostly a carryover model, but the Raptor will rejoin the lineup.
The 2021 Ford F-150 redesign brought in an all-new front end with bolder grille options, revamped headlights, partial LED headlight surrounds, new bumpers, and more. We expect the basic design to remain the same in the 2022 F-150. The big news is the F-150 Raptor's return after a year off.
The 2022 F-150 Raptor will take all the key updates to the base F-150 and enhance them with its unique "FORD" mesh grille, power dome hood with a new heat extractor, functional side vents, more aggressive fenders, blacked-out headlights and taillights, a wider front skid plate, steel bumpers, 17-inch off-road wheels, and knobby tires.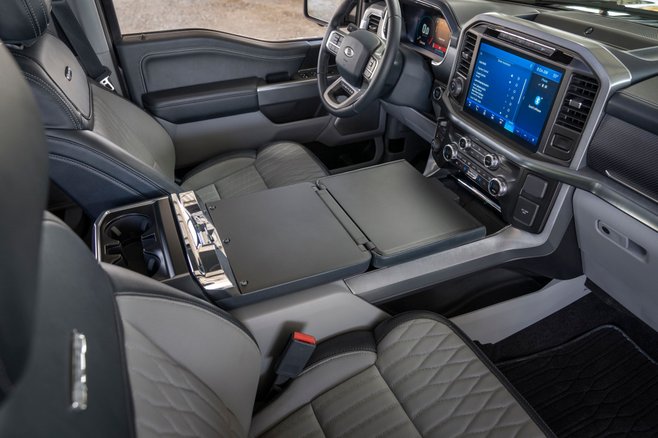 The current F-150 has no shortage of engine options, starting with its standard 290-horsepower 3.3-liter V6 that can help the pickup to up to 8,200 pounds. The Lariat model gains a 2.7-liter turbocharged V6 with 325 hp, which pushes the towing to 10,100 pounds. There's a 5.0-liter V8 with 400 hp on King Ranch and Platinum models, which bumps the towing peak to 13,000 pounds. The Limited trim gets the 3.5-liter twin-turbo V6 with 400 hp and 500 pound-feet of torque, which puts the towing capacity at 14,000 pounds.
On the diesel side, there's an optional 3.0-liter turbodiesel V6 that pumps out 250 hp and 440 lb-ft of torque. This engine delivers a stellar 22 miles per gallon city, 30 highway, and 25 combined, but the higher cost of diesel fuel mostly gobbles up these savings.
There's also a new-for-2021 F-150 Hybrid that pairs the 3.5-liter turbo V6 with a 47-hp electric motor for a combined 430 hp and 570 lb-ft of torque. This model can tow up to 12,700 pounds. With four-wheel drive, the F-150 Hybrid gets a solid 24 mpg across the board and 25 mpg city, 26 highway, and 25 combined with rear-wheel drive.
Again, the big 2022 F-150 news is the return of the Raptor, which will boast a 3.5-liter twin-turbo V6. Ford hasn't announced the Raptor's output yet, but we expect it to at least match the last-gen's 450 hp. The 2022 Raptor will also see its payload and towing capacity increase by 200 pounds to 1,400 pounds and 8,200 pounds, respectively. Other than its potent engine, the Raptor will tackle terrain with its extra-long trailing arms, 24-inch rear coil springs, FOX Live Valve internal-bypass shocks, and more.
Ford is planning a Raptor R too, but it's not planning to release it until 2022. There are also reports of an F-150 EV, but we don't expect to see that until the 2023 model year.
The current F-150 is not your grandpa's pickup, as it features all the latest in safety tech, including standard automatic emergency braking with pedestrian detection, active lane control, and automatic high beams. Buyers can also opt for adaptive cruise control, surround-view cameras, rain-sensing wipers, adaptive steering, blind-spot monitors with rear cross-traffic alerts, parking sensors, automatic emergency rear braking, and a post-collision braking system. The IIHS hasn't put the 2021 F-150 through its barrage of tests yet, so stay tuned for its official crash-safety ratings. We expect the safety gear to remain unchanged in the 2022 F-150.