Back in the 1960s and 70s, the Ford Maverick was a legendary compact muscle car. Unfortunately, the emissions era killed it – along with every other muscle car of that time – but Ford is reviving the nameplate for 2022. But with the automaker shifting away from cars and focusing on SUVs, crossovers, and trucks, the 2022 Ford Maverick is something altogether different: a pickup truck.
The 2022 Ford Maverick will be a compact pickup truck slated beneath the midsize Ford Ranger. It'll boast a softer look than its F-150 and Ranger siblings, as it strikes a balance between crossover and truck, a la the Honda Ridgeline. Like the Ridgeline, the Maverick will feature softer body lines and edges to appeal to the masses.
The 2022 Maverick will not only look unique, but it'll also feature functional equipment for all types of buyers. Outside, the 2022 Maverick's FLEXBED was developed specifically for meeting various hauling requirements, from home improvement projects to college students moving into a dorm. With FLEXBED, you can use 2-by-4 and 2-by-6 lumber to create segments in the bed for easier item placement. There will also be multiple points to secure cargo, including two tie-downs, four D-rings, and built-in threaded holes in the sides to bolt in new creations.
The bed will also have a good deal of built-in tech, including a standard 12-volt power source and two available 110-volt 400-watt outlets.
Inside, the 2022 Maverick will feature a standard 8-inch touchscreen infotainment system with Apple CarPlay and Android Auto. There will also be in-truck Wi-Fi for up to 10 devices.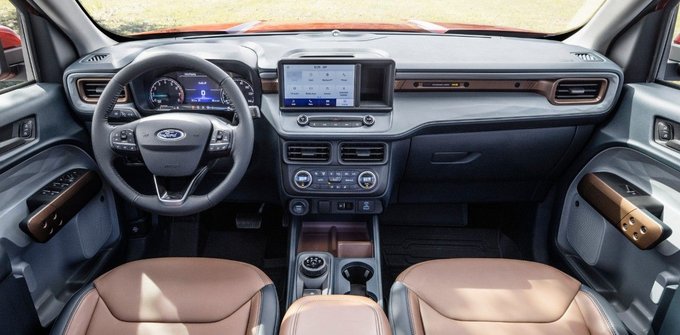 Powering the base 2022 Maverick will be a 2.5-liter hybrid four-cylinder setup with 191 horsepower and 155 pound-feet of torque. In this format, the Maverick will tow up to 2,000 pounds and haul up to 1,500 pounds of payload while delivering 40 mpg city.
Buyers can opt for the turbocharged 2.0-liter four-cylinder engine that will pump out 250 hp and 277 lb-ft of torque. This setup will bump the ma towing to 4,000 pounds with the optional 4K Tow Package.
There are no crash test scores yet, but the 2022 Maverick will come standard with automatic emergency braking and automatic high-beam headlights. Optional safety gear will include full-speed adaptive cruise control, blind-spot monitors, rear cross-traffic alert, lane-centering assist, evasive steering, and more.