Amid its sweeping name-changing initiative, INFINITI debuted the Q50 2014. This sleek and swoopy sedan arrived with all the design cues the brand was known for, and aside from a few mild visual updates and more significant powertrain changes, the Q50 has remained the same since. We expect this carryover trend to continue in the 2022 Q50.
As a carryover model, we expect no notable changes to the 2022 INFINITI Q50. We expect it to arrive with the same swoopy and sporty look it's had since bursting onto the scene in 2014. This design may be getting a little long in the tooth, but it's also a unique touch of creativity in the otherwise vanilla midsize luxury sedan space.
Inside, we expect no changes either, as we anticipate the 2022 Q50 retaining the simple design of the current model. Despite this simple look, the current model has advanced interior tech, including dual infotainment screens and standard Apple CarPlay and Android Auto. We expect these features to remain the same in the 2022 Q50.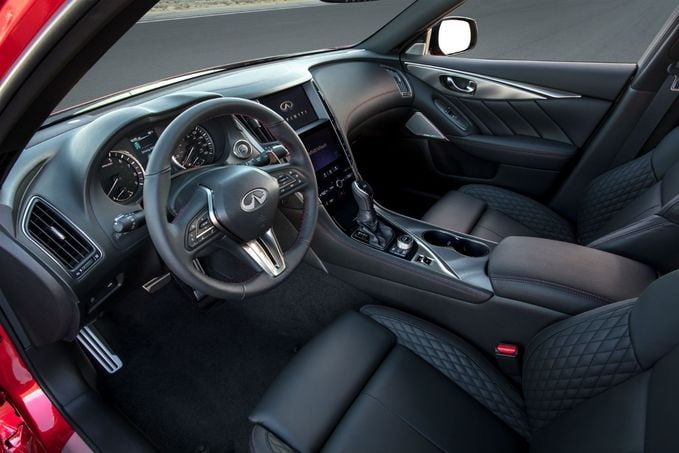 We also anticipate no changes under the hood, as we expect the 2022 Q50 to carry on with its standard 3.0-liter turbocharged V6 that pumps out 295 horsepower and 300 pound-feet of torque. The Red Sport 400 model will push the performance envelope with a boosted V6 that pumps out 400 hp and 350 lb-ft of torque. All Q50 models will come standard with rear-wheel drive, and all-wheel drive will remain an option.
The current Q50 has yet to go through complete IIHS testing, but it received "Good" ratings in the four crash tests the institute has completed. We know it comes standard with automatic emergency braking, while adaptive cruise control, blind-spot monitors, and active lane control are standard on all but the base car. We expect these safety features to remain the same in 2022.