The Jeep Gladiator arrived in 2020 as an all-new model, giving the automaker a much-needed pickup truck in the red-hot segment. Entering its third year on sale, we expect the 2022 Jeep Gladiator to be a carryover model.
When the Gladiator officially went on sale, the pickup truck arrived with a rugged design. From the front, the Gladiator looks nearly identical to the Wrangler SUV. Jeep's iconic seven-slot grille, round headlights, burly front bumper, and massive fender flares give the Gladiator a standout design in the segment. The pickup's long, rectangular bed, square headlights, and chunky fenders give it a boxy design. As a carryover model, the 2022 Gladiator will share the same exterior design as the current pickup.
On the inside, the current Gladiator has a rugged design that's meant to be straightforward and easy to clean. The pickup truck has a clear design with round vents, easy-to-read gauges, and excellent sightlines out of the vehicle. The center console splits the touchscreen, HVAC controls, and window switches that are all controlled via large dials, buttons, and switches. We expect the 2022 Jeep Gladiator to share the same interior design as the current model.
On top of its 5-inch touchscreen, the current Gladiator comes with two USB ports, Bluetooth, satellite radio, and eight audio speakers as standard. Both 7- and 8.4-inch touchscreens are available, as are navigation, Apple CarPlay, Android Auto, and nine audio speakers. Tech features should remain the same for the 2022 model year.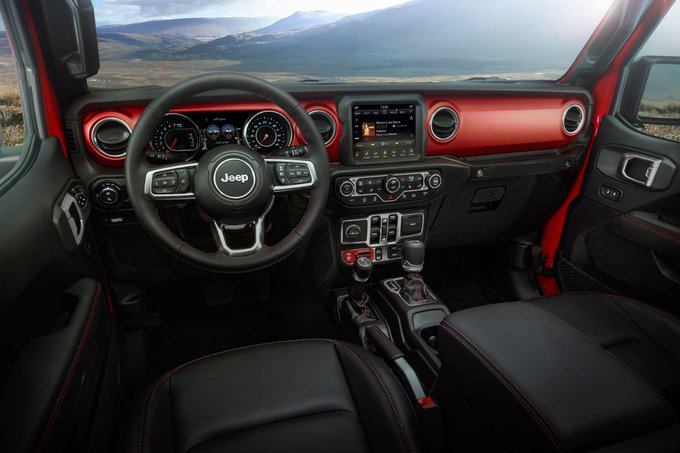 Jeep offers two powertrains with the Gladiator. The standard engine is a 3.6-liter V6 that produces 285 horsepower. A 3.0-liter diesel V6 engine is available, cranking out 260 hp and 442 lb-ft of torque. The Gladiator's base V6 can be fitted with a six-speed manual or an eight-speed automatic transmission. The automatic transmission is the only option with the diesel engine. The 2022 Jeep Gladiator should have the same two powertrains.
The only standard safety features on the Gladiator is a rearview camera. While the current Gladiator can be fitted with modern driver-assist features, they're all optional. Automatic emergency braking, forward collision warning, adaptive cruise control, rear cross traffic alert, blind spot monitoring, and rear parking sensors are all available. These safety features are expected to remain the same for 2022.