Kia has long been a tinkerer in the EV world, releasing all-electric versions of several vehicles, including the Soul. But it's never had a dedicated EV vehicle in the U.S. That's all set to change with the unveiling of the upcoming 2022 Kia EV6.
The 2022 Kia EV6 will be a compact crossover built atop the brand's all-new dedicated EV platform. It'll feature a sleek and low-slinging silhouette, almost reminiscent of the Jaguar I-Pace. It'll also gain a new take on the brand's signature "tiger face." Dubbed the "digital tiger face," this new nose will feature sleek and modern daytime running lights with a sequential pattern and a visually widening lower ait intake.
The profile angle is where its I-Pace inspiration is clear, with its low-slung roofline and forward-leaning hatchback. It'll also feature a character line that flows from the base of the doors to the rear wheel arches. You'll also notice black A-, B-, and C-pillars, which give it a reversed floating roof design.
This compact EV crossover will measure 184.3 inches long, 74.4 inches wide, and 61 inches tall in its base trim. The GT-Line will be a little longer at 184.8 inches, and the GT trim will be longer and lower at 184.8 inches and 60.8 inches tall. All three trims will ride atop a 114.2-inch wheelbase.
Inside, the 2022 EV6 will boast a suitably modern interior, but Kia pulled back a bit to avoid taking things too futuristic. It'll boast a two-post steering wheel with the all-new Kia emblem front and center, a simple dash, heavily bolstered front seats, a curved infotainment screen, and more.
Inside, it'll offer 18.4 cubic feet of cargo room with the rear seats in place and 45.9 cubes with the rear seats folded. There's also a frunk – front trunk – that offers an extra 1.8 cubic feet in two-wheel-drive models and 0.7 cubic feet in all-wheel-drive models.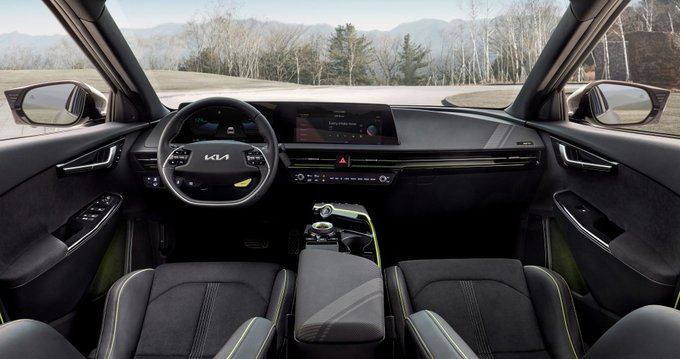 Under the 2022 Kia EV6's skin will be an all-electric powertrain that'll deliver up to 577 horsepower and 546 pound-feet of torque in the range-topping AWD GT trim. This will sprint it to 100 km/h (62 mph) in just 3.5 seconds and up to a 162-mph top speed.
The base EV6 with the standard-range 58-kWh battery and rear-wheel drive will deliver 168 hp and 258 pound-feet of torque. Move to the all-wheel-drive version, and it gains a motor producing 232 hp and 446 lb-ft of torque, which will push it to 100 km/h (62 mph) in just 6.2 seconds.
Bump up to the long-range 77.4-kWh battery pack, and the EV6 will travel 316 miles on a charge. Plus, the base output will jump to 225 hp and 258 lb-ft of torque with rear-wheel drive and 321 hp and 446 lb-ft with all-wheel drive. With all-wheel drive and the long-range battery, the EV6 will hit 62 mph in just 5.2 seconds
Charging will come via an ultra-fast 800-volt system that'll take it from 10% to 80% in just 18 minutes, and the two-wheel-drive model with the 77.4-kWh battery reaches a 100-km range in less than 4.5 minutes.
The 2022 EV6 will have a full assortment of Kia Drive Wise safety features, including lane-following assist, adaptive cruise control, remote parking, and more.