The Kia Sedona is one of the few options for buyers looking for a people-hauling minivan. As the current generation arrived in 2015 and all of its competitors have seen recent style updates, the Sedona is in need of an updated design. Luckily, Kia has announced that the 2022 Sedona will be completely redesigned and aiming to be a "Grand Utility Vehicle".
When it comes to exterior design, Kia is upping its fame with the 2022 Sedona. The minivan gains Kia's most recent styling with the brand's signature tiger-nose grille and sharp headlights upfront. Moving around back reveals an SUV-like look with the roofline dropping off onto a flat rear liftgate with aggressive body lines. The taillights are connected by a light bar that spans the width of the hatch, creating a more upscale design.
On the inside, the 2022 Sedona gets a much-needed facelift. Kia's "Spatial Talent" concept along with the overall size increase of the new minivan allows for a larger, more comfortable interior design with touches of modernity and luxury. The focal point inside is the dash with a 12.3-inch digital driver instrument cluster incorporated with the 12.3-inch infotainment screen beneath a single piece of glass. Below the infotainment cluster, the climate controls have gone almost completely touch-sensitive with slim air vents running the width of the interior.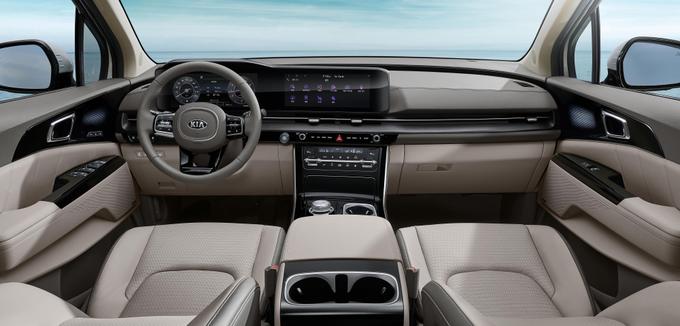 Kia has not announced any powertrain updates but it's possible that the minivan could see some changes under the hood. The current Sedona has only one engine option: a 3.3-liter V6 good for 276 horsepower and 248 lb-ft of torque.
The Sedona will go on sale in the Korean market in late 2020 so we expect it to arrive in the U.S. some time in 2021.
The all-new Sedona will compete with the Chrysler Pacifica, Honda Odyssey, and Toyota Sienna.
Learn more about the current Sedona on sale now »
Pictured: 2022 Kia Sedona