The Kia Telluride arrived in 2020, giving the Korean automaker an upscale midsize crossover with attractive styling and plenty of features. Since the 2022 Kia Telluride will only be just the model's third year, we expect it to be a carryover.
Likely the most endearing feature of the Kia Telluride is its design. It boasts Goldilocks sizing – bridging the size gap between the Honda Pilot and Chevy Tahoe – and a bold design that includes a memorable nose and tail with striking lighting cues, just enough chrome and an upright glasshouse. It's a careful combination of ruggedness, style, and class that we expect the 2022 Kia Telluride to carry over.
Inside, the Telluride offers ample seating for eight with a third row that even adults can tolerate for a short period. In terms of design, the Telluride's interior boasts a sharp but straightforward dash that boasts a clean and clutter-free setup, a dash-top touchscreen, upscale trim options, light metallic and gloss accents and more. Move into higher trims, and it offers supple Nappa leather, heated and cooled seats, and more. We expect this look and feel to remain the same in the 2022 Kia Telluride.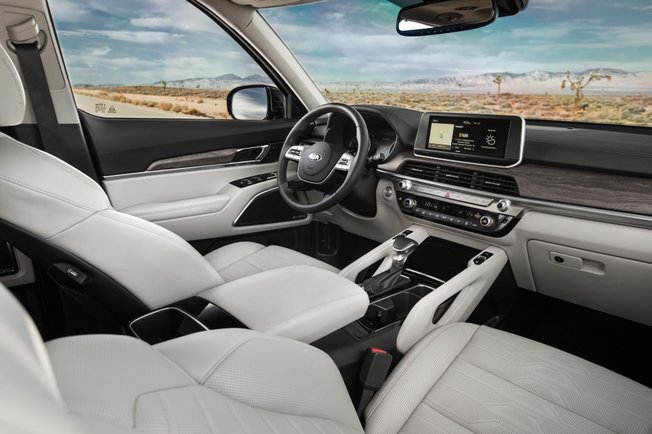 Likely the Telluride's one reminder that it's not a true luxury cruiser is its middle-of-the-pack 291-horsepower 3.8-liter V6. This V6 mates with an eight-speed automatic transmission to deliver about average acceleration. We expect the 2022 Telluride to continue with the same powertrain.
The current Kia Telluride is an IIHS Top Safety Pick with its "Good" ratings in all crash-safety tests, "Acceptable" optional headlights, and "Superior"-rated standard automatic emergency braking. Other standard safety features include adaptive cruise control, blind-spot monitors, and active lane control. We expect the 2022 Telluride to carry on with the same safety ratings and features.