The Lexus GX arrived at showrooms in 2020 with an updated exterior design that gave the midsize SUV a sharp look to try and keep the vehicle competitive. Despite the SUV entering its 13th model year on sale, we expect the 2022 Lexus GX to be a carryover model.
When the Lexus GX went on sale in 2020, it arrived with more aggressive design elements for a fresher look. As a carryover model, the 2022 Lexus GX will have the same overall design as the current SUV that's on sale. The current GX wears an oversized version of Lexus' spindle grille that dominates the front end. From the side, the GX's boxy design and tall ride height make it a capable off-roader. At the back, the GX has a swing-out tailgate, which is an odd feature for a modern SUV.
The current GX shows its age on the inside. In addition to a few hard plastics and a center console that's littered with buttons, the GX doesn't have the same stylish design or upscale cabin as its competitors. Clear gauges, large dials, and clear sightlines out of the SUV make the GX easy to use and drive. We expect the interior design to remain the same for the 2022 Lexus GX.
On top of a standard 8-inch touchscreen, the current GX comes with Amazon Alexa, voice recognition, four USB ports, an HD radio, nine audio speakers, and Bluetooth. Optional features include a Mark Levinson audio system and navigation. The 2022 GX will share the same tech features as the current model.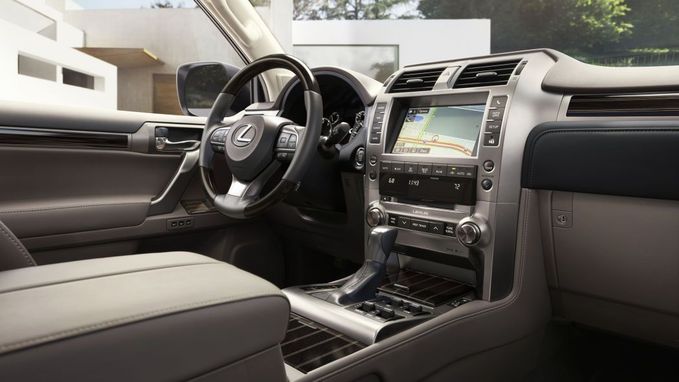 The current GX features a 4.6-liter V8 engine that we expect will go unchanged for the 2022 model year. The engine is rated at 301 horsepower and is paired with a six-speed automatic transmission. A standard full-time four-wheel-drive system, a two-speed transfer case, and a locking center differential are also included.
Standard safety features on the Lexus GX include automatic emergency braking, forward collision warning, lane departure warning, pedestrian detection, adaptive cruise control, blind spot monitoring, and rear cross traffic alert. A surround-view parking camera and parking sensors are optional. Neither the NHTSA nor the IIHS has crash-tested the current GX. Without any expected changes, the 2022 Lexus GX will come with the same safety features as the current model.