Mazda recently unveiled the all-new CX-30 for the 2020 model year. With the CX-30 being one of the newer models in the automaker's lineup, a carryover model is expected for 2022. A new turbocharged engine, as well as the addition of Android Auto and Apple CarPlay as standard equipment for the 2021 model year means there's not much Mazda will do for the CX-30 in 2022.
Despite competing in the affordable subcompact segment, the CX-30 arrived in 2020 with an upscale design that it shares with Mazda's other SUVs. The CX-30 has a premium look that starts with a shield grille with numerous points, slim headlights, and large fenders that lead into a ridged hood. Looking at the SUV from the side reveals coupe-like lines and an athletic rear end. Triangular taillights and dual exhaust pipes give the SUV its sporty look at the back.
Unlike its rivals, the CX-30 has one of the nicest cabins in the class, and the 2022 model will retain everything we like about the vehicle. The SUV's opulent design and first-rate materials wouldn't look out of place on a larger, more expensive vehicle. In traditional Mazda fashion, the dashboard features stunning lines, an uncluttered center console, and crisp dials. Additionally, the CX-30 is available with genuine leather upholstery, a large 8.8-inch display, and a high-end 12-speaker Bose audio system.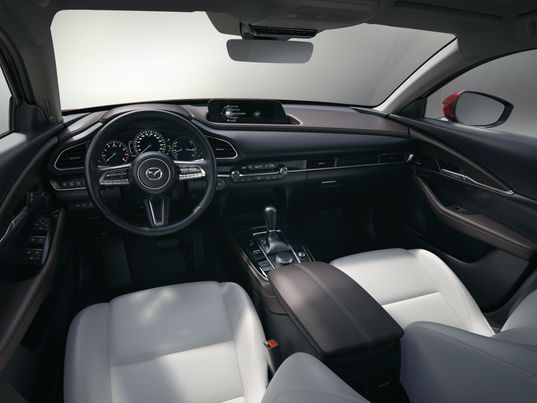 With Mazda changing the CX-30's powertrains for the 2021 model year, things should remain the same for 2022. The standard engine in the CX-30 is a 2.5-liter four-cylinder that produces 186 horsepower and 186 pound-feet of torque. A turbocharged 2.5-liter four-cylinder is available that's rated at up to 250 hp and 320 lb-ft of torque. Both engines come with a six-speed automatic transmission. Front-wheel drive is standard on the base four-cylinder, while all-wheel drive is standard with the more powerful turbocharged unit.
Safety features on the 2022 CX-30 will mimic the ones found on the 2021 model. Pedestrian detection, lane departure warning, forward collision warning, automatic emergency braking, lane keep assist, adaptive cruise control, driver attention monitoring, and automatic high beams will be standard. Buyers can also opt for reverse automatic emergency braking, traffic jam assist, blind spot monitoring, a head-up display, rear cross traffic alert, and traffic sign recognition.