The Mazda Mazda6 hasn't been fully updated since 2014 and we don't expect a redesign to occur for the 2022 model year. Since the Mazda6 was updated in 2014, it received a refresh in 2016, new engines in 2018, and new features along the way. Despite being one of the older models in the midsize class, the Mazda6 still impresses with upscale styling, high-end features, a punchy turbocharged engine, and athletic handling. While 2022 will see the Mazda6 be a carryover model, a redesign is possible for 2023.
Since the Mazda6's refresh in 2016, the midsize sedan has featured the same exterior design, which should remain the same for the 2022 model year. Unlike other mainstream midsize sedans, the Mazda6 exudes luxury. Its unique grille design, bulging fenders, and slim air intake opening give it a tidy front end. Sweeping lines dominate the side profile of the Mazda6, giving the sedan its curvy design. At the back, lengthy wraparound taillights, a central chrome strip, and dual exhaust outlets are a mix of sporty and upscale elements. The 2022 Mazda6 should retain a lot of the same design elements as the current model.
The 2022 Mazda6 will feature an interior that mirrors the current model's. Functional, upscale, and elegantly styled, the sedan has one of the best cabins in the segment. The Mazda6's simplistic interior design and first-rate materials all make the sedan feel like a true luxury vehicle. The uncluttered design of the center console, sweeping lines on the dashboard, and clear gauges make the Mazda6's interior look unlike anything else. Mazda offers some upscale features on the Mazda6 that include Nappa leather upholstery, a head-up display, a heated steering wheel, a premium Bose audio system, and real wood accents.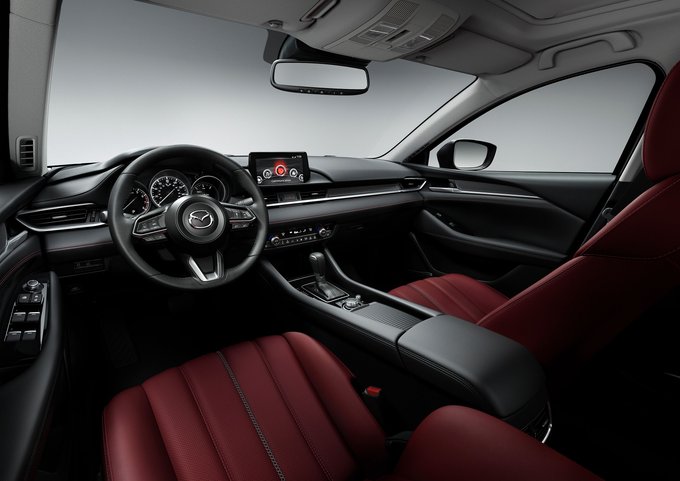 Mazda currently offers the Mazda6 sedan with two different engines, which should carry into the 2022 model year. The base engine is a 2.5-liter four-cylinder that makes 187 horsepower and 186 pound-feet of torque. A more powerful turbocharged 2.5-liter four-cylinder engine is available that's rated at up to 250 hp and 320 lb-ft of torque. Front-wheel drive and a six-speed automatic transmission are standard.
Every 2022 Mazda6 will come with the automaker's iActivsense of safety features. The suite includes automatic emergency braking, forward collision warning, pedestrian detection, lane departure warning, automatic high-beam assist, adaptive cruise control, rear cross traffic, and blind spot monitoring. Buyers will also be able to get traffic sign recognition, a surround-view parking camera, along with front and rear parking sensors.