What's New
The 2022 Mercedes-Benz E-Class undergoes a few changes this year. Most notable is the removal of the AMG E 63 S Sedan and Wagon from the line-up, a change that caused many car enthusiasts to cry out in anguish. While they were not necessarily that popular among the general public in terms of sales, the concept of a 603-horsepower V8 luxury sedan and wagon was something special, and it will be missed.
Besides that, automatic high beams are now standard across the E-class lineup. Additionally, AMG sedan models now receive standard heated steering wheels, while the Coupe and Cabriolet gets rear seat USB-C ports.
Choosing Your Mercedes-Benz E-Class
The 2022 Mercedes-Benz E-Class is available in a dizzying array of configurations and trim levels. Three trim levels are available: E 350, E 450, and AMG E 53, with Sedan, Coupe, Cabriolet, and All-Terrain Wagon configurations.
The base E 350 is only available as a Sedan, while All-Terrain Wagons are only available with the E 450 trim. Sedans, Couples, and Cabriolets are available in both E 450 and AMG E 53 configurations.
Pricing ranges from $56,000 (including $1,050 in destination) for the E 350 Sedan and range up to $83,900 for the AMG E 53 Cabriolet. The Coupe holds a $4,700 premium over the Sedan, while the Cabriolet costs an additional $7,000 over the coupe.
Choosing an E 450 in wagon guise costs $5,650 over an E 450 equipped with all-wheel drive. Each of these models features a wide array of options that can further inflate prices to eye-watering levels but leaves you with the power to get an E-Class as luxurious as you want it.
Engine Choices
There are three engine choices available for the E-Class, delineated by trim level.
E 350 models receive a 2.0-liter turbocharged inline four-cylinder, while E 450 models receive a 3.0-liter turbocharged inline six-cylinder with a 48V mild-hybrid drive.
AMG E 53 models get the same engine as the E 450 models, but it has an electric auxiliary compressor and a more performance-oriented tune to increase power considerably.
All models are equipped with a nine-speed automatic transmission with paddle shifters. All-wheel drive is available on E 350 Sedans and E 450 Coupes and Cabriolets for $2,500, but it is standard on E 450 Sedans and Wagons. The AMG E 53 is rear-wheel drive only on all body styles.
| | | | | | |
| --- | --- | --- | --- | --- | --- |
| Engine Type | Trim Level | Horsepower | Torque | Fuel Economy (Combined) | 0-60 mph Time |
| 2.0L Turbo 4-Cylinder | E 350 | 255 hp | 273 lb-ft | 26 mpg | 6.1 s(Sedan) |
| 3.0L Turbo Inline 6-Cylinder | E 450 | 362 hp | 369 lb-ft | 23 mpg | 4.9 s (Sedan) |
| 3.0L Turbo Inline 6-Cylinder | AMG E 53 | 429 hp | 384 lb-ft | 24 mpg | 4.4 s (Sedan) |
Passenger and Cargo Capacity
The E-Class line varies widely on seating capacities depending on body style. Sedans fit five, with a roomy back seat, while wagons can fit up to seven with a rear-facing third row. Coupe and cabriolet models fit just four, eschewing the rear middle seat. Coupe and Convertible rear seats also offer less legroom than the sedan, but it's enough for pre-teens.
Trunk space also varies wildly depending on configuration. The wagon leads the pack unsurprisingly, with 35 cubic feet of space behind the rear seat, and 64 cubic feet with the seats folded. Sedan models get 13.1 cubic feet of trunk space, while the coupe and cabriolet have less than 10 cubic feet.
Safety Features
The E-Class gets top marks for safety, with a Top Safety Pick+ award from the IIHS and five-star crash ratings from NHTSA. Additionally, the outward vision in the Sedan and Wagon is far above average, making it one of the safest cars on the road in our opinion.
The E-Class also has a wide array of active safety features, both standard and optional. Standard features include automatic emergency braking with pedestrian detection, blind-spot monitoring, driver attention monitoring, a rear-collision detection and mitigation system, and even a system that assists in keeping the car tracking straight in heavy crosswinds. Options include adaptive cruise control, hands-free driver-assist in stop and go traffic, and a surround-view camera.
Connectivity
Mercedes-Benz has been a leader in technology and connectivity for decades, and the current E-Class is no exception. The E-Class infotainment system features an intuitive operating system with a touch screen, a touchpad, or touch-control buttons on the steering wheel. Like Alexa, Google Assistant, and Siri, you can ask the system to do things just by saying "Hey Mercedes" and then what you want it to do, such as "turn the heat up to 72 degrees."
Navigation is standard, as is Apple CarPlay and Android Auto. A Burmester Surround sound system is available as well, along with a heads-up display, gesture control, wireless charging, augmented video for navigation, a built-in dashcam, and active noise cancellation.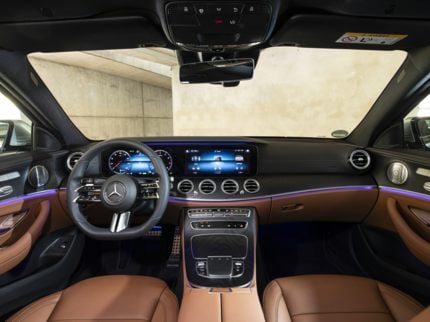 2022 Mercedes-Benz E 350 - MSRP From $56,000
The E 350 is only available as a sedan. It comes standard with leatherette upholstery in five different colors paired with five different types of wood trim, along with heated memory front seats, dual-zone climate control, and ambient lighting. All-wheel drive is available, but base E 350 models come with rear-wheel drive.
Notable packages include the $1,050 Warmth and Comfort package, which includes rapid seat heaters for the front seat, along with heated armrests and a heated steering wheel, as well as the $2,400 Premium Package which adds the Burmester sound system, park assist, a surround-view camera, hands-free trunk access, and rear cross-traffic alert. A $1,950 Driver Assistance Package is also available, with a full suite of active safety features including adaptive cruise control and stop and go traffic assist.
Individual options are many, including regular and Nappa leather for $1,620 and $2,990 respectively, ventilated front seats ($450), massaging seats ($1,320), air suspension ($1,900) and adaptive headlights ($750). As you can probably tell, you can easily add thousands of dollars to the price of the car before you realize it.
2022 Mercedes-Benz E 450 - MSRP From $58,500
The standard features and options of the E 450 largely mirror the E 350, with a few exceptions. E 450 coupe and cabriolet models receive the features of the Premium Package as standard, while the coupes also come standard with a panoramic sunroof. Additionally, the E 450 comes available in all body styles.
There are three new options for the E 450, and they apply to only the coupe and cabriolet. Soft-close doors are available for $550, while a $350 Air Balance Package adds a cabin air purifier and a cabin fragrance system. The third feature is a fluid-dispensing heated windshield wipers for $350 that prevents the standard problem of a momentarily obscured windshield when you go to clean it.
2022 Mercedes-Benz AMG E 53 - MSRP From $76,050
The AMG E 53 trim isn't supposed to be the top-of-the-line luxury trim, but rather the performance trim. Features remain largely the same as the E 450 in sedan, coupe, and cabriolet guise, but add an AMG-specific grille and wheels. Even at this price point, standard seats are leatherette, but you can only option up to Nappa leather.
AMG-specific options include a $500 performance steering wheel, an $800 Sun Protection Package, and a $1,100 AMG Head-Up Display. Additionally, soft-close doors are available on the Sedan version for $550.
Compare E-Class Trims Side-By-Side
CarsDirect Tip
The path of deciding which E-class to buy should start with how much power you need, then go from there. If you don't need more than 255 horsepower and don't want a coupe, wagon, or cabriolet, you can get everything you need from the base E 350.