The Mitsubishi Mirage arrived as an all-new model in 2014 and benefitted from updated exterior styling for the 2021 model year. With the introduction of the Mirage, Mitsubishi gained an efficient, affordable subcompact vehicle. With the subcompact hatchback entering its ninth model year on sale, we expect the 2022 Mitsubishi Mirage to be a carryover model.
With the refresh for 2021, the Mirage gains a more modern design that gives it a unique look. The large front grille that takes up the entirety of the front fascia matches some of Mitsubishi's SUVs for a familial look. The back of the Mirage features a large rear spoiler, a chunky rear bumper, and diamond-shaped taillights for a sporty design. As a carryover model, we expect the exterior design for the 2022 Mitsubishi Mirage to remain the same.
The interior of the current Mirage is more reserved than the exterior. We don't expect any major changes for the 2022 model year, so the upcoming Mirage will share the same interior design as the current model. The center console has a split design with the infotainment system sitting above controls for the HVAC system. An oversized speedometer sits in the center of the tach and is flanked by two smaller gauges.
In addition to a 7-inch touchscreen, the current Mirage comes with a USB port, Bluetooth, Apple CarPlay, Android Auto, and four audio speakers. The only optional tech feature is a Rockford Fosgate audio system. We expect these features to remain the same for the 2022 Mitsubishi Mirage.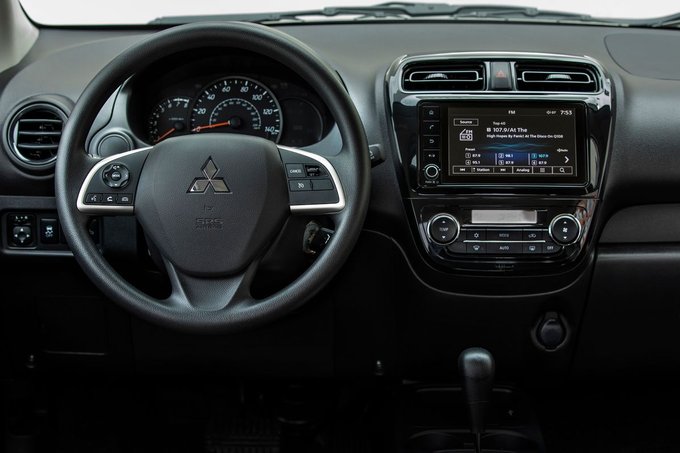 The current Mirage is powered by a 1.2-liter three-cylinder engine that makes 78 horsepower. A five-speed manual transmission is standard, while a continuously variable automatic transmission is optional. Every Mirage comes with front-wheel drive. This powertrain should go unchanged for the 2022 model year.
When it comes to safety features, the Mirage comes with forward collision warning, pedestrian detection, and automatic emergency braking. Optional features include lane departure warning, parking sensors, and automatic high-beam assist. In the NHTSA's testing, the Mirage did well enough to earn a four-star safety rating.