The Mitsubishi Mirage G4 arrived in 2017 and gave the automaker an affordable and efficient subcompact car. With the sedan entering its sixth model year on sale, we expect the 2022 Mitsubishi Mirage to be a carryover model.
When the Mirage G4 came out in 2017, the sedan featured a subcompact footprint, round edges, and soft lines. The 2021 model year saw an updated exterior design with a large front grille that dominates the entire front fascia and sits in the middle of sharp headlights. The rear end of the current Mirage G4 has a chunky rear bumper, a rear spoiler, and small diamond-shaped taillights. As a carryover model, we expect the exterior design of the 2022 Mitsubishi Mirage G4 to share a lot of the same elements as the current model.
The interior of the current Mirage G4 has a straightforward design, which should remain the same for the 2022 model year. The simple center console is split into two areas, with the touchscreen sitting on top of the dials and buttons for the HVAC system. The gated shifter, central speedometer, and cutout on the passenger side of the dashboard are unique elements on the inside.
Standard tech features on the current Mirage G4 include a 7-inch touchscreen, Bluetooth, four audio speakers, a USB port, Android Auto, and Apple CarPlay. A Rockford Fosgate is the only noteworthy optional feature. These tech features should remain the same for the 2022 Mitsubishi Mirage.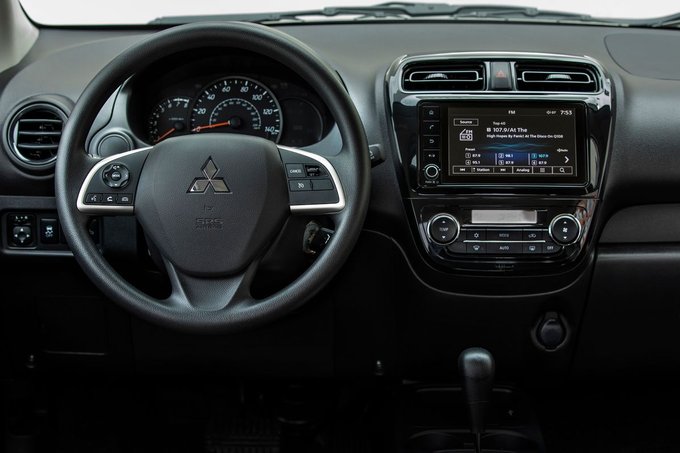 Currently, Mitsubishi only offers one powertrain with the Mirage G4. Power comes from a 1.2-liter three-cylinder engine that makes 78 horsepower. The engine is paired with either a five-speed manual transmission or a continuously variable automatic transmission. Front-wheel drive is the only available layout. This engine is expected to be the only one available for the 2022 model year.
When it comes to standard safety features, the current Mirage G4 comes with pedestrian detection, forward collision warning, and automatic emergency braking. Optional features include lane departure warning, automatic high-beam assist, and parking sensors. These safety features should carry over for the 2022 Mitsubishi Mirage G4.