The Subaru Outback arrived with a full redesign in 2020. Entering its third model year on sale, the 2022 Subaru Outback is expected to be a carryover model.
The Outback continues to be one of the few wagons on sale and entered the 2020 model year with a more upscale design that still showcased its off-roading prowess. Sharp headlights, a large air intake, and a square grille are all elements the Outback shares with other Subarus. Large fender flares, rugged body cladding, and a chunky rear bumper help the current Outback look more like an SUV than a wagon. We expect the overall exterior design of the Outback to remain the same for the 2022 model.
The inside of the Outback is more luxurious than the wagon's exterior design. The simple lines and flowing design of the dashboard highlight the available vertically-oriented touchscreen. Minimal buttons and dials on the center console give the Outback's interior its streamlined center console. Without any major changes, the 2022 Outback's look should be similar to the current model.
Tech-wise, the 2022 Outback will mirror the current model on sale. The standard infotainment system includes two 7-inch touchscreens, Android Auto, Apple CarPlay, two USB ports, Bluetooth, and four audio speakers. An 11.6-inch touchscreen, a 12-speaker Harman Kardon audio system, wireless smartphone charging, and navigation are optional.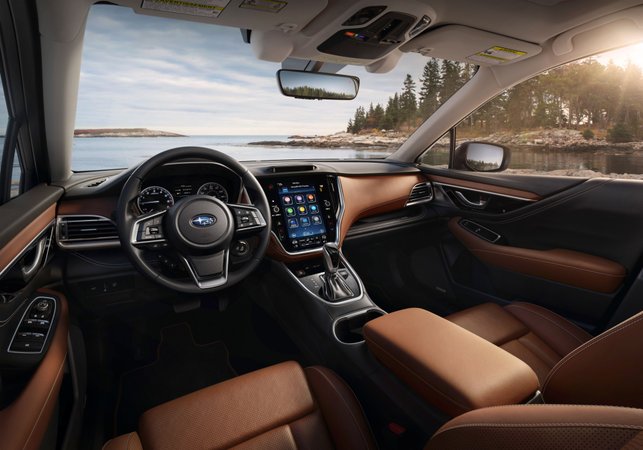 Two powertrains are available for the current Outback. The standard engine is a 2.5-liter flat-four that produces 182 horsepower and 176 pound-feet of torque. A turbocharged 2.4-liter flat-four is available that's rated at 260 hp and 277 lb-ft of torque. Both engines are paired with a continuously variable automatic transmission and come with all-wheel drive. The powertrains should remain the same for the 2022 model year.
The current Outback comes with lane keeping assist, lane departure warning, forward collision warning, adaptive cruise control, and automatic emergency braking as standard. Available safety features include rear cross traffic alert, lane change assist, blind spot monitoring, and a driver monitoring system.