The 4Runner is the last of a dying breed as a compact to midsize body-on-frame SUV that's ready for whatever you throw its way. It went through its last full redesign in 2010, but it has been through a few visual tweaks since. With it still popular within its niche, we expect no changes to the 2022 Toyota 4Runner.
The current 4Runner is a throwback visually. This is common these days in crossovers, but the thing is, this Toyota SUV has been doing it forever. It boasts an angular body with plenty of sharp lines and creases to set off its higher ride height and knobbier rubber relative to its crossover rivals. This blast-from-the-past design may not be for everyone, but it keeps its base loyal. We expect the 4Runner's exterior to remain the same in 2022.
Inside, the 11-model-year-old 4Runner shows its age with a basic setup with little in the way of exciting styling. It looks like precisely what it is: a dressed-up last-generation pickup truck. It features large circular HVAC knobs, simple controls, a last-gen Toyota steering wheel, those oh-so-2010 bluish LCD dials in the center of the dash, and an in-dash 8-inch touchscreen with Android Auto and Apple CarPlay. We expect this to remain the same in the 2022 4Runner.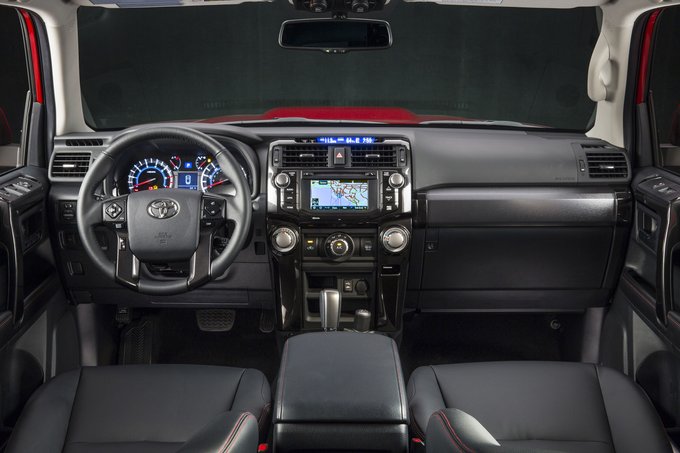 The current 4Runner's powertrain is equally throwback, as it continues with a 4.0-liter V6 with 270 horsepower and 278 pound-feet of torque. This pairs with an ancient but functional five-speed automatic transmission and rear- or four-wheel drive. Step up to the TRD Off Road and get serious off-road performance with fatter wheels and tires and a locker rear differential. The TRD Pro ups the ante with Fox off-road shocks and a lifted suspension. We expect this to all remain the same in the 2022 4Runner.
Despite old roots, the 4Runner's safety gear is surprisingly advanced and includes standard automatic emergency braking, adaptive cruise control, and blind-spot monitors. Crash scores are mostly fine, with the IIHS rating it "Good" in four of five tests. The scary part is the "Marginal" score in the small-overlap crash test on the driver's side. We expect these safety features and ratings to remain the same in the 2022 4Runner.