Toyota introduced the C-HR to the U.S. market in 2018, slotting this front-wheel-drive only crossover beneath the popular Toyota RAV4. This sporty crossover has received minor tweaks since, but it hasn't undergone a major mid-product-cycle update or experienced a complete overhaul. The Toyota C-HR effectively blends a diamond-patterned theme with a raised coupe-like platform, thus its "compact high rider" delineation.
Inside, the C-HR continues the diamond-themed design pattern evident in the lights, angular rear door handles, and the roof on the exterior. Specifically, the cabin features buttons, switches, vents, door inserts, seat patterns, and a headliner that convey this unusual look. While the C-HR is cozy for two, the rear seat is less so, due in part to a sloping roofline that restricts headroom. A limited amount of legroom ensures that no more than two youngsters inhabit that space comfortably.
For 2021, Toyota added a Nightshade Edition and upgraded the C-HR's suite of driver-assist equipment. For 2022, we aren't expecting anything more than subtle design tweaks and perhaps a tech update. The rumored manual transmission option and available all-wheel drive are not on the docket for 2022. Toyota offers the C-HR in LE, XLE, Nightshade Edition, and Limited trims.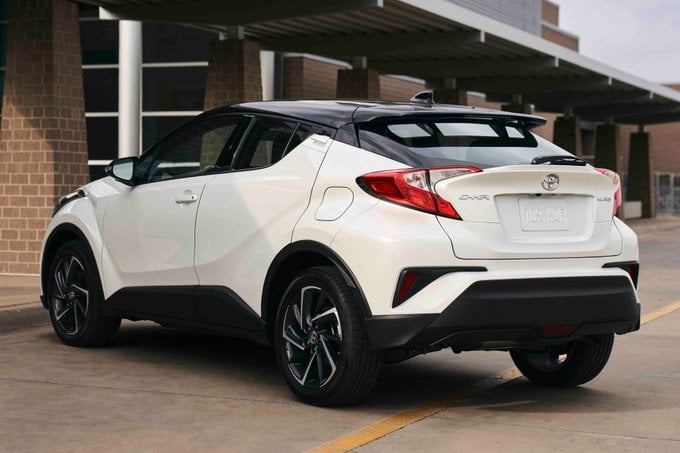 Only one powertrain choice is available, a 2.0-liter four-cylinder engine works with a continuously variable transmission. This one makes 144 horsepower and 139 pound-feet of torque and that's considerably less than the 169 horsepower output in the Toyota Corolla.
The engine seems lethargic at times and with a combined EPA-rated 29 mpg, it is also less efficient than in other applications, including the Corolla. That said, we find the C-HR possesses certain fun-to-drive elements with its precise steering and controlled ride. More power would clinch it for shoppers looking for a performance edge, but it isn't there.