The Toyota Prius Prime arrived in 2017, giving the automaker a plug-in hybrid option of its incredibly popular Prius family. With the plug-in hybrid hatchback set to enter its sixth model year on sale, the 2022 Toyota Prius Prime is expected to be a carryover model.
When Toyota unveiled the Prius Prime in 2017, the compact hatchback arrived with a futuristic design. The slim front headlights, grille-less front fascia, and elongated hood give the current Prius Prime a futuristic design. At the back, taillights that wrap around the hatch in an M-shape, vertically-oriented lines, and a smooth rear bumper continue the futuristic theme. As a carryover model, the 2022 Prius Prime will have the same overall design as the current model.
On the inside, the current Prius Prime maintains a futuristic design, which we expect to go unchanged for the 2022 model year. The Prius Prime's instrument cluster is located in the center of the dash, just above the vertically-mounted touchscreen. Most of the Prius Prime's controls are handled through the touchscreen, but the few buttons that the plug-in hybrid has sit next to the screen. An odd joystick-like shift knob sits at the bottom of the center console, freeing up space in the cabin.
Standard features on the current Prius Prime include a 7-inch touchscreen, Amazon Alexa, Android Auto, Apple CarPlay, Bluetooth, and satellite radio. Toyota offers the plug-in hybrid with an 11.6-inch touchscreen, navigation, 10 audio speakers, and a wireless charger. These features are expected to remain the same for the 2022 Toyota Prius Prime.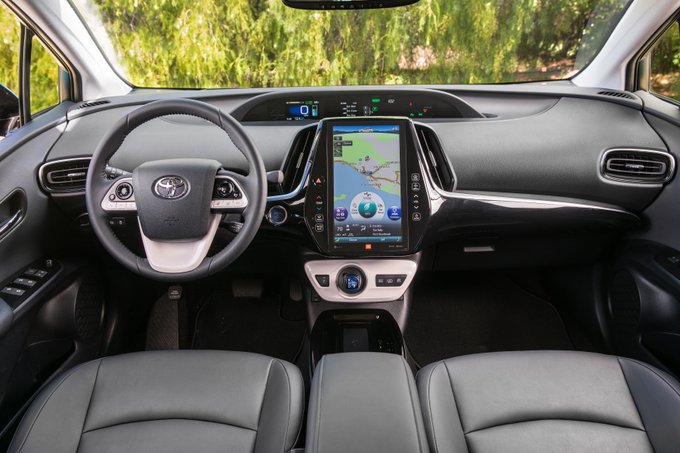 The 2022 Toyota Prius Prime is expected to come with the same powertrain as the current model. Currently, the Prius Prime is powered by a 1.8-liter four-cylinder engine and two electric motors for a total of 121 horsepower. Power is routed to the front wheels through a CVT. The plug-in hybrid has an all-electric range of 25 miles.
Standard safety features on the current Prius Prime include traffic sign recognition, lane departure warning, adaptive cruise control, pedestrian detection, and forward collision warning. Rear cross traffic alert, a head-up display, parallel park assist, blind spot monitoring, and parking sensors are available. The current Prius Prime earned a five-star overall safety rating from the NHTSA, but failed to earn an award from the IIHS. These safety ratings and features should carry over for the 2022 model year.