The Volkswagen Golf will not be sold in the U.S. for the 2022 model year. Low demand and a new focus on electrification are largely to blame, although the German automaker will continue to offer both the Volkswagen GTI and Golf R. Both of these performance-oriented variants will be redesigned, although it remains unclear when the next-gen Golf will arrive here in the States.
While the redesigned Golf will not be sold in the U.S. for the coming year, we do have some information on what it may entail based on the version sold in Europe. According to VW, the new-generation hatchback will not only have a new look, but it'll also bring in a pile of hybrid, mild hybrid, and plug-in hybrid powertrain options.
The redesigned Golf offers no real surprises, as its looks are far from revolutionary but plenty to set it apart from the current model. Up front, this new hatchback will boast an all-new nose with squinty headlights, a thinner grille, a new bumper with horizontal fins, and a low-slung hood. In back, the Golf's liftgate has a more rounded shape to complement its all-new taillights that are narrower in their innermost points, new bumper, and all-new bumper-integrated exhaust outlets.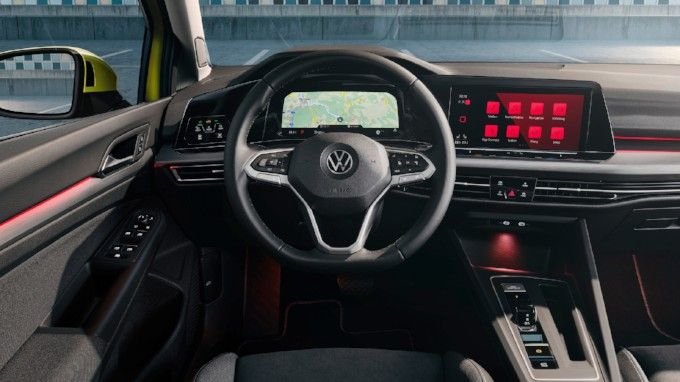 Inside, the new Golf will boast a cabin ripped straight from the future, as it will digitize nearly all displays and controls. This will include a digital gauge cluster, digital HVAC controls, an electronic gear shifter, and much more. The cabin is still plenty sporty with its flat-bottom steering wheel, but it also boasts a strong horizontal orientation that helps visually widen it and making it feel more luxurious.
Under its hood is where all the real craziness happens, as the new-generation Golf is a virtual hybrid overload with five electrified models. There is no mention of which hybrid powertrains will make it to the U.S. and which will stay in Europe, so we'll just run through them all.
First will be the eTSI lineup of mild-hybrid engines that'll mate a TSI engine to a belt starter generator fed by a 48-volt lithium-ion battery for up to a 10% reduction in fuel consumption. This powertrain will come in three flavors: 109 horsepower, 129 hp, and 147 hp. The second set of electrified powertrains will be two plug-in hybrids. The milder of the two plug-in models will focus on efficiency but will still boast a respectable 201 hp. The sportier GTE model will push output to 241 hp. Both plug-in models will use a 13-kilowatt-hour battery pack, which VW claims will deliver a 37-mile all-electric range.
The new Golf will not be all hybrids, as there will be two diesel engines and two standard gasoline engines available around the world. In the U.S., we can forget about diesel engines here in the U.S., but we will likely see at least one standard TSI gasoline engine. These TSI engines will be three-cylinder turbocharged units and will produce 88 hp and 109 hp. If we see either of these engines in the U.S., it'll likely be the 109-hp unit.
Safety details are not fully available yet, but VW did announce the next Golf will have Car2X, which will receive signals from traffic infrastructure and other vehicles up to 800 meters away, so you know what is going on with traffic before you ever get there. The current-generation Golf failed to earn IIHS Top Safety Pick status, but its standard automatic emergency braking earned it a "Superior" rating in the all-important front-crash prevention test. We expect the new-generation hatchback to arrive with all the newest safety nannies and an improved crash structure to potentially earn a spot as a Top Safety Pick model.