What's all the buzz regarding Volkswagen's electric vehicle plans? The 2022 Volkswagen I.D. BUZZ is it or at least it represents one of several electric-only models this automaker has planned for the market over the next few years.
Volkswagen has been working diligently to move away from diesel engines to electric motors and the I.D. BUZZ along with the 2020 I.D. CROZZ are among its earliest anticipated models. Both vehicles have been shown in prototype form at major auto shows. Now, Volkswagen is working behind the scenes to bring this concept to production reality.
The layout of the I.D. BUZZ seems familiar and it is. Specifically, the upcoming model takes its design cues from the Volkswagen Type 2 (Bus), what some call the first true minivan.
Like the original Bus, the I.D. BUZZ has a spacious interior. Sitting on a 16-foot-long frame, the I.D. BUZZ is designed to haul people and cargo. Indeed, Volkswagen promises a cargo version, a vehicle that will take on such models as the Ford Transit Connect and the Nissan NV 200. Unlike its competitors, the I.D. CROZZ is fully electric.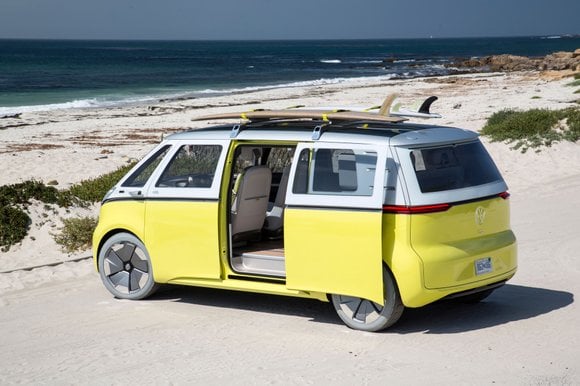 For the I.D. BUZZ, I.D. CROZZ and subsequent vehicles, they'll share a common modular platform designed exclusively for electric vehicles. That'll help maximize weight distribution, battery placement and a host of other advantages a dedicated platform brings.
While the original Bus offered just 30 horsepower when it debuted in 1950, the I.D. BUZZ will deliver 369 horsepower from the electric motors fixed to each axle. A 111-kilowatt battery pack will store electricity, supplying this futuristic people mover with nearly 300 miles of estimated range. Importantly, VW is designing the I.D. BUZZ to take a fast charge. It should reach 80 percent of its capacity in about 30 minutes when utilizing a fast charge system.
Pricing & Release Date
Volkswagen hasn't said whether the I.D. BUZZ name will remain when the new model debuts or be replaced with something else. No matter, the I.D. BUZZ and the I.D. CROZZ will launch a new chapter in Volkswagen car building as the automaker embraces vehicle electrification like never before.
We're currently expecting a release date around 2022. Expect official pricing to be announced closer to the on-sale date.
This page will be updated.
Explore the current VW lineup »
Pictured: I.D. BUZZ Electric Concept