The current BMW 5-Series is starting to age, having come out in 2017 as a fully redesigned vehicle. For the upcoming 2023 model year, BMW is looking to make the 5-Series more competitive with a redesign.
At the time of writing, we've only seen spy photos of pre-production 2023 BMW 5-Series sedans. Based on the images, we can see that the upcoming 5-Series will continue to have a smaller version of BMW's kidney grilles, rounded headlights, slim taillights, and rounded body panels. Along the side, it looks like the new 5-Series could come with flush door handles. Based on the pre-production models, it looks like BMW listened to feedback it received from the more radical 4-Series and penned a more conservative design for the 2023 5-Series.
We haven't seen any images of the 2023 BMW 5-Series sedan's interior yet. The sedan's cabin is expected to get an overhaul with a new design, more screens, and a redesigned center console with fewer controls. We expect to see the infotainment screen move further down the dashboard, the center console to have a single thin line of buttons, and the steering wheel to have a new look. As a midsize luxury vehicle, we also expect BMW to fit the new 5-Series with more premium materials.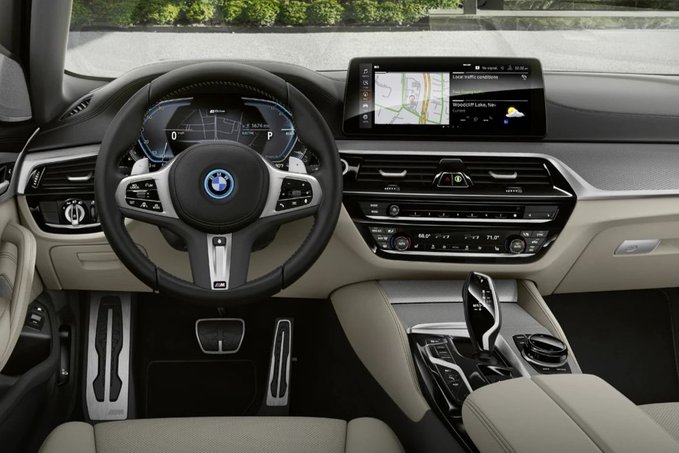 Tech features for the 2023 BMW 5-Series haven't been confirmed yet, but we expect the midsize sedan to arrive with even more features. The current 5-Series is available with a 12.3-inch touchscreen, a 12.3-inch digital instrument cluster, Android Auto, Apple CarPlay, navigation, gesture control, and 16 audio speakers. The 5-Series is expected to arrive with BMW's latest iDrive infotainment system.
BMW hasn't said anything about the upcoming 5-Series sedan's available powertrains yet. We believe that the sedan will continue to come with a standard turbocharged four-cylinder engine and be available with turbocharged six- and eight-cylinder engines. Hybrid and plug-in hybrid engines are expected to be available. BMW will also be coming out with an all-electric version of the 5-Series called the i5.
The 2023 5-Series is expected to arrive with more advanced safety features than the current model on sale. The current 5-Series comes with blind-spot monitoring, rear cross-traffic alert, forward collision warning, automatic emergency braking, pedestrian detection, traffic sign recognition, a driver drowsiness monitor, and lane departure warning as standard. Available safety features include park assist, a surround-view parking camera, lane-keeping assist, adaptive cruise control, a head-up display, and a front-facing camera.