The current BMW X1 came out as an all-new vehicle in 2016 to give BMW a competitor in the subcompact SUV class. For the 2023 model year, the BMW X1 is expected to arrive as a redesigned vehicle, ushering in the second generation of the SUV.
So far, we've seen some spy shot photos of pre-production 2023 X1 SUVs being tested. From the photos, we can see that the upcoming X1 will grow in size compared to the current SUV on sale, though it's expected to utilize the same FWD platform. At the front, the new X1 will wear larger kidney grilles, sharper headlights, and a more angular front fascia. The rear end of the SUV should have the same overall curvy design as the current SUV, but adopt slimmer headlights, a larger rear bumper, and available quad exhaust outlets.
The camouflaged interior appears similar to that of the BMW 2-Series, with the layout of the dashboard including multiple screens for instruments and infotainment. We also expect the center console layout to be updated with new buttons and controls. Because of the SUV's wider body, interior space is expected to grow. BMW should fit the 2023 X1 with nicer interior materials than the ones found on the current SUV.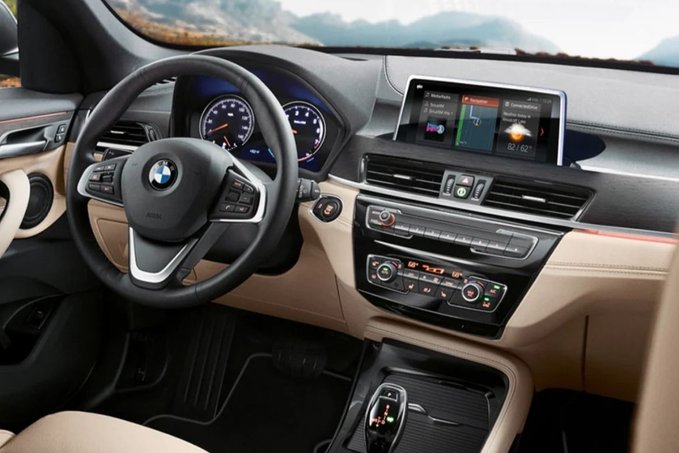 The redesign for the 2023 model year is expected to bring a large tech update for the X1. The current model comes with Apple CarPlay, Bluetooth, a USB port, seven audio speakers, and satellite radio. We expect the redesign to see the subcompact SUV arrive with much more standard features.
For the U.S. market, we expect the 2023 BMW X1 to still be available with a standard turbocharged 2.0-liter four-cylinder engine. That would mean an output of 302 horsepower and 450 lb-ft of torque. BMW is reportedly working on a high-performance version of the X1 that comes with a more powerful version of the base engine as well as a plug-in hybrid and an all-electric version of the 2023 X1. We don't know much about those yet, but rumor has it that the EV would have single and dual motor layouts available.
To match the 2023 BMW X1's new tech features, we expect the subcompact SUV to arrive with more advanced safety features. Currently, the SUV comes standard with forward collision warning, automatic emergency braking, parking sensors, lane departure warning, and automatic high-beam assist. Available safety features include a head-up display, adaptive cruise control, and park assist.