Cadillac is looking to become the final word in luxury again, but with electric vehicles. The all-new 2023 Cadillac Celestiq arrives as a sedan twin to the Lyriq EV SUV. The Celestiq utilizes General Motors' Ultium platform and batteries.
The 2023 Celestiq features a bold, high-end design that matches the Lyriq EV, but in a sedan body style. The exterior features a large amount of aluminum, which can be found on the fenders, grille, rocker panels, trunk lining, and trim around the lighting. Look past the Celestiq's futuristic design and the sedan has plenty of elements of past Cadillacs like the Flying Goddess hood ornament that's carved into frosted glass trim on the front quarter panels. Dramatic lighting elements, an elongated body, and a rounded rear end result in a unique look.
Cadillac has merged the future with the past with the Celestiq's interior. The dashboard is essentially a giant curved screen that sits atop a simple dashboard, while an additional screen is located by the lower portion of the center console. Bright leather upholstery, a large-diameter steering wheel, metal accents, and chairs that are modeled after the Eames chairs from the '50s are throwbacks to the past. Because of the Celestiq's size, the sedan has an enormous interior with a generous amount of space for four.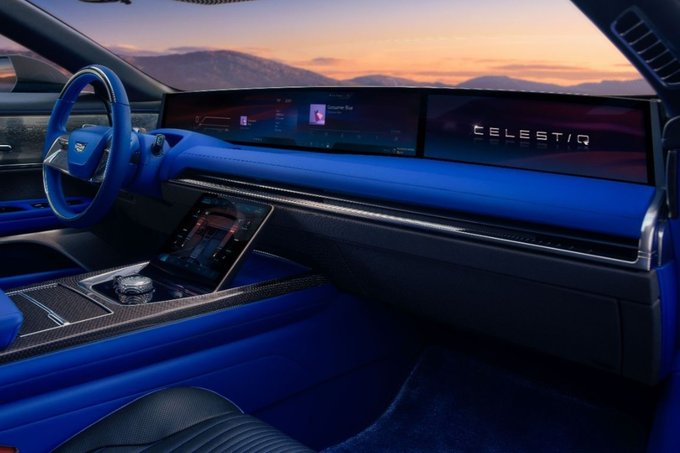 Technology is a major part of the 2023 Celestiq's appeal. The sedan has a stunning 55-inch HD display that spans the entire width of the dashboard. It's actually comprised of two separate screens that are housed in a single pane of glass. The 55-inch display is just one of five screens in the sedan. There's an 11-inch touchscreen at the front, a rear console-mounted 8-inch touchscreen, and two 12.6-inch displays in the seatbacks. The sedan comes with built-in Google, which includes Google Maps, Google Assistant, and Google Play.
All Celestiq models will come with dual electric motors for roughly 600 horsepower, and 640 pound-feet of torque. All-wheel drive is standard, while the sedan comes with a 111-kWh battery pack. GM claims that the sedan has an estimated range of 300 miles. The sedan will be able to get to 60 mph in 3.8 seconds. When plugged into a DC fast charger, the Celestiq can gain 78 miles of range in 10 minutes.
Cadillac will pack the Celestiq with an extensive list of safety features, but the main draw is General Motors' Ultra Cruise system. It's a more advanced take on Super Cruise that will work in 95% of driving situations, while Super Cruise only works on mapped highways. Other safety features should include automatic emergency braking, blind spot monitoring, remote auto park, rear cross-traffic alert, forward collision warning, lane keeping assist, and lane departure warning.