Coming off of a full redesign in 2021, things are mostly expected to remain the same for the 2023 Cadillac Escalade. The large luxury SUV will arrive in a new Escalade-V trim with 682 horsepower, upgraded brakes, a more aggressive exterior design, and retuned suspension. The result is a high-performance version of the luxury SUV.
As a carryover model, the 2023 Escalade will share the same overall exterior design as the current SUV on sale. That means the SUV will feature an enormous shield grille, rectangular headlights, large vertical taillights, and prominent body lines. The all-new Escalade-V trim has a more menacing look with black exterior trim, 22-inch wheels, and quad exhaust tips.
Without any expected changes to the regular Escalade for the 2023 model year, the large SUV will continue to have the same high-end interior design with massive screens. The new Escalade-V trim is available in two different leather upholstery colors and zebrawood trim. Cadillac will offer the Escalade-V ESV, which is a long-wheelbase version of the regular Escalade-V.
On the tech front, the 2023 Escalade will continue to come with the same features as the current model year that's on sale. The large SUV will continue to come with a 7.2-inch digital control panel, a 14.2-inch digital gauge cluster, and a 16.9-inch touchscreen that are integrated to look like a single screen. Other standard tech features include a 19-speaker audio system, a Wi-Fi hot spot, Bluetooth, a wireless charging pad, and wireless smartphone compatibility. Available features include 36 audio speakers and a rear-seat entertainment system with two 12.6-inch touchscreens.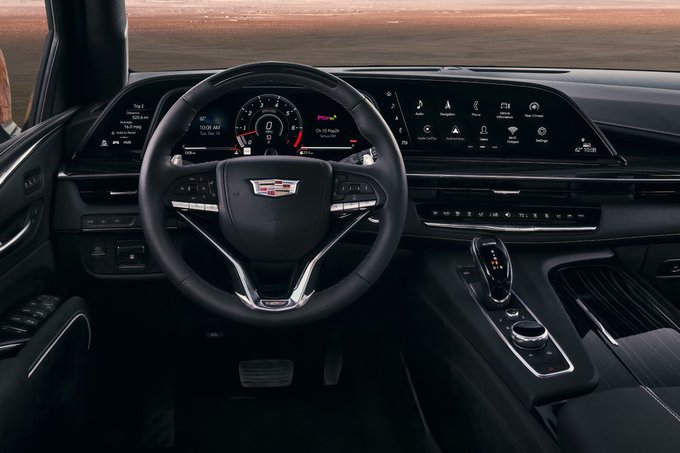 Cadillac will continue to offer the Escalade with a standard 6.2-liter V8 engine that makes 420 horsepower. A 3.0-liter turbodiesel six-cylinder engine that produces 277 hp is available. The 2023 Escalade-V debuts with a hand-built supercharged 6.2-liter V8 engine that produces 682 hp. The supercharged V8 helps the Escalade-V get to 60 mph in less than 4.4 seconds. In addition to the powerful engine, the Escalade-V also comes with special adaptive dampers, air springs, and Brembo brakes.
The 2023 Cadillac Escalade should still share the same safety features as the current large SUV on sale. Forward collision warning, pedestrian detection, automatic emergency braking, lane-keeping assist, lane departure warning, and a surround-view parking camera are currently standard. Available features include park assist, blind-spot monitoring, lane change assist, night vision assist, Super Cruise, and rear cross-traffic alert.