The Chevrolet Corvette E-Ray (or Corvette ERay) is expected to be a new hybrid performance variant of the iconic Corvette nameplate. Official E-Ray specs have not yet been confirmed by GM, but unintentionally released Corvette E-Ray configurator images have revealed what the new car will look like. Previously, E-Ray spy shots appeared to point to a sleek two-door coupe with a wide stance akin to the Z06 Corvette.
The addition of a hybrid-electric Corvette coupe could offer a boost in performance and better fuel economy. In its current form, the Corvette comes with a 6.2L V8 rated at 19 mpg. According to a report from GM Authority, the E-Ray will replace the Corvette Grand Sport and sit between the Stingray and the Corvette Z06. In terms of looks, the leaked E-Ray visualizer photos show a car with body-color trim throughout.
Initially, the Corvette E-Ray was thought to be a potential competitor to cars like the Acura NSX. Although an increasing number of automakers are offering plug-in hybrids (PHEVs) and fully-electric vehicles on both the mainstream and higher ends of their lineups, the E-Ray is believed to be a regular hybrid. However, the car will reportedly offer something called a ZER Performance Package, but details remain unknown for now.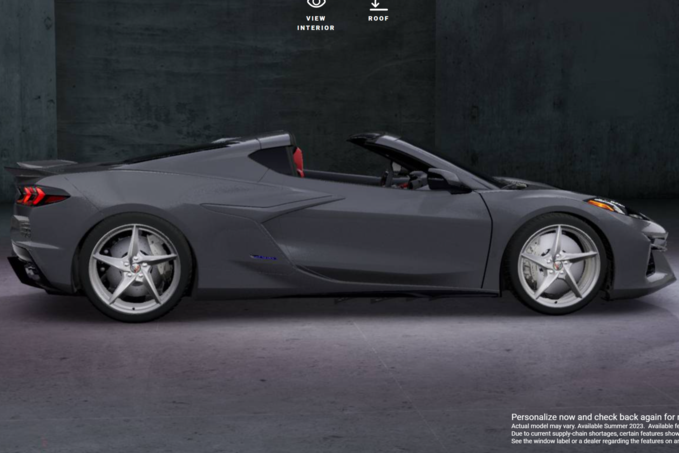 E-Ray horsepower specs are unclear at the moment. The regular Corvette makes 490 hp with 465 lb-ft of torque, although the Z06 model offers up to 670 hp. Will the E-Ray feature a power output of around 550 hp? Sadly, we're left to speculate, at least for now. One apparent revelation is a Regen On Demand button that presumably enables one-pedal driving, allowing the car to recover energy when the brakes are applied.
The E-Ray's transmission technology may be unlike any prior Corvette. Based on a report from The Drive, manufacturer Tremec filed a patent for a dual-clutch unit mated to an electric motor generator. If the transmission makes its way to the E-Ray, it could enable the car to achieve a higher level of performance.
In an interview with CNBC, GM President Mark Reuss reportedly hinted at an electrified Corvette in 2023. This all-electric Corvette will make use of GM's new Ultium battery technology, though full Corvette EV specs and features have not yet been revealed. The company is planning to have an all-EV lineup by 2035.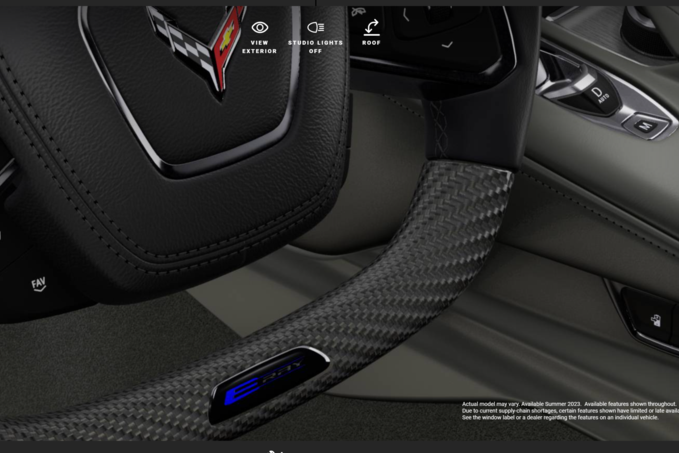 Chevy has not yet teased a release date for the Corvette E-Ray. Although a report from Motor Authority asserted that the car would debut sometime in 2022 as a 2023 model, it appears more likely at this point that the car will be a 2024 model.
E-Ray pricing is a mystery, though we wouldn't be surprised if the car lands in the neighborhood of $75,000 based on current Corvette pricing. If the car isn't a plug-in hybrid, it will not qualify for a federal tax credit. Even though GM hasn't been eligible for the tax credit in years after surpassing a sales cap, the 2022 Inflation Reduction Act will enable its cars to once again be eligible if domestic sourcing requirements are met.
With its shift to electrification, GM is planning a number of high-profile debuts. For example, the Hummer is back as a fully-electric GMC truck. Similarly, the company will introduce a new Chevy Silverado EV as well as a GMC Sierra EV, both based on its proprietary Ultium battery technology.
Stay tuned for updates to this page as new information is revealed.
Pictured: Pre-production Corvette E-Ray
Sources: CorvetteBlogger, GM Authority, MidEngineCorvetteForum, The Drive, Motor Authority