The Chevrolet Trax arrived as an all-new model in 2015 and received a refresh in 2017. Beyond that and the introduction of a more powerful engine in 2022, things have been quiet for the Trax. With the arrival of the similarly-sized Trailblazer in 2021, things don't look that good for the Trax's future. We believe the 2023 Chevrolet Trax will be the last model year for the subcompact SUV, as Chevrolet looks to give the Trailblazer one less competitor.
As a carryover model, the Trax is expected to have the same exterior design as the current model that's on sale. The Trax last got an updated design in 2017, which saw the subcompact SUV arrive with swept-back taillights, a thin grille at the top, a large bottom grille, and a flared hood. The rear end of the Trax is more subdued than the front end with minimal lines and taillights that follow the curvature of the rear fenders.
On the inside, the current Trax has a design that's similar to the same model from 2015. Compared to others in the class, it looks outdated and has subpar materials. The Trax also has less interior space than most subcompact SUVs in the class, as well. The simple center console layout has large dials for the HVAC system and sits slightly off-center for ease of use. The 2023 Chevrolet Trax will have the same interior design as the current model that's on sale.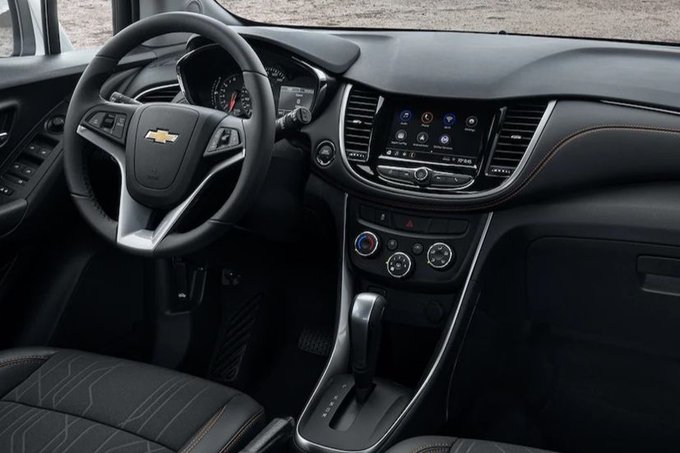 Chevrolet offers the Trax with a seven-inch touchscreen as standard equipment. The infotainment system includes a Wi-Fi hot spot, Android Auto, Apple CarPlay, Bluetooth, two USB ports, satellite radio, and six audio speakers. The Trax isn't available with any optional infotainment features. We don't expect to see any changes to the Trax's list of tech features for the 2023 model year.
A turbocharged 1.4-liter four-cylinder engine is standard on the Trax. The motor makes 155 horsepower and comes with a six-speed automatic transmission. The Trax comes standard with front-wheel drive and is available with all-wheel drive. This engine should continue to be available for the 2023 Trax.
The current Trax doesn't come with a lot of safety features and we don't expect the list to change for 2023. The only noteworthy standard safety feature on the Trax is a rearview camera. Optional safety features include rear cross-traffic alert, blind-spot monitoring, and rear parking sensors.