With Hyundai and Kia coming out with new electric vehicles with the IONIQ 5 and EV6, Genesis will enter the fray with its own version with the all-electric GV60. The SUV will utilize the same underpinnings as the Hyundai and Kia but feature a more upscale look. The new 2023 GV60 is part of Genesis' plan to become a zero-emission automaker by 2030.
In terms of size, the 2023 Genesis GV60 is smaller than the GV70 compact SUV, but not by much. The electric GV60 is only eight inches shorter in length and two inches shorter in height, putting it in the same realm as a compact SUV. The front end of the SUV has a split headlight design and a grille that's placed low down on the front fascia for a sporty, unique look. The rear end of the SUV looks similar to some of the coupe-like offerings on the market with a blunt rear end that's more hatchback than liftgate and split taillights. The GV60 goes against other luxury brands from Genesis, as it has a sportier, funkier design than its peers.
On the inside, the GV60's looks aren't nearly as polarizing. The SUV has a simplistic design with a few bold elements and high-tech features. The center console has a thin line of buttons for things like heated seats, while the shifter looks like a crystal sphere with backlighting. The design of the HVAC controls looks familiar to other models from Genesis, but the rest of the design looks fresh and futuristic. As the smallest offering in Genesis' SUV lineup, we expect the GV60 to have less interior space than the GV70 and GV80.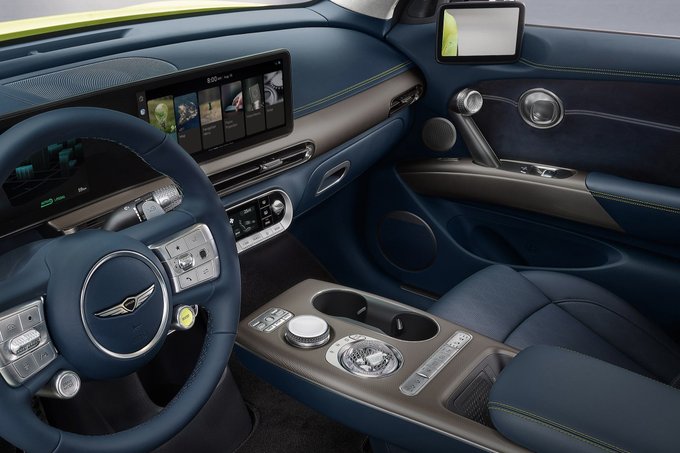 Genesis hasn't confirmed what kind of tech features the 2023 GV60 will have. Based on the pictures, we expect the SUV to be available with a digital instrument cluster, a sizable touchscreen, smartphone compatibility, retina and fingerprint identification, and camera-based rearview mirrors, but these might not be offered in the U.S.
In terms of performance, the 2023 Genesis GV60 promises up to 429 horsepower in the Performance trim, with a range of 235 miles. In Boost Mode, it can reach 483 horsepower. Having said that, the entry-level GV60 Advanced trim is rated at just 314 horsepower, though it does get up to 248 miles of range. All-wheel drive is standard in either configuration.
We expect the 2023 GV60 to be available with similar tech features to the larger GV70. That SUV comes standard with adaptive cruise control, pedestrian detection, forward collision warning, automatic emergency braking, lane-keeping assist, rear cross-traffic alert, blind-spot monitoring, and a driver drowsiness monitor. Available safety features include a surround-view parking camera, park assist, intersection assist, reverse automatic emergency braking, and Genesis' Highway Driving Assist II system.