2023 Hyundai Veloster Price, Specs, Release Date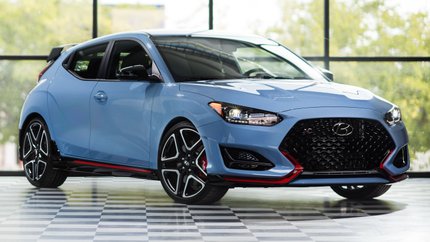 Model Preview
Hyundai has recently come out with the news that the 2023 Veloster N will be discontinued. According to the automaker, this is due to the expansion of the new N Brand's Elantra N and Kona N models. With the automaker wanting to focus on those vehicles, the Veloster N has fallen through the cracks and has seen its last production year only 10 years after first being made to replace the Tiburon.
Previously, the N had the performance package as standard, 19-inch wheels, an electronic limited-slip differential, and a variable valved exhaust. As a sports car that was also a hatchback, the Veloster N seated four and had a total of 44.5 cu. ft. of cargo space if the seats were down. On the inside, it featured an eight-inch touchscreen with navigation and smartphone mirroring as well as an eight-speaker Infinity audio system with both a subwoofer and amplifier.
The Veloster N had only one powertrain: a 2.0-liter 4-cylinder turbocharged engine paired with either a six-speed manual transmission or a seven-speed dual-clutch transmission. This gave the Veloster N an output of 275 horsepower and 260 lb-ft of torque. It also had an EPA-estimated fuel economy of 22 mpg city, 28 mpg highway, and 25 mpg combined.
We'll email you as soon as the 2023 Hyundai Veloster becomes available.
Safety features on the Veloster N included six airbags, traction control, braking assist, lane-keeping, a vehicle stability management system, blind-spot warnings, rear cross-traffic collision warnings, and driver attention alerts. Even the odd way the Veloster was built, with one door on the driver's side and two doors on the passenger side, was meant to enhance passenger safety during entering and exiting the vehicle.
Veloster N alternatives include the Honda Civic Si and Volkswagen GTI. Later this year, Toyota plans to introduce a high-performance version of the Corolla called the Corolla GR hatchback that promises 300 horsepower in an all-wheel drive configuration.