2023 Jeep EV Model Info & Release Date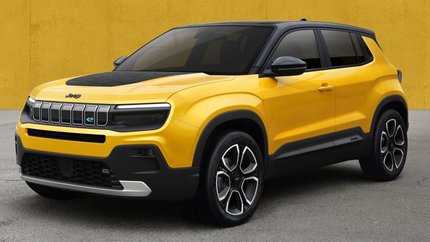 Model Preview
Jeep is planning its first all-electric vehicle to launch in early 2023. Although we already know that Stellantis (formerly Fiat Chrysler) is intent on boosting the number of electrified cars and SUVs sold globally, official details on the upcoming Jeep EV have not yet been announced.
As part of the company's global EV strategy, a product timeline lists a Jeep EV but doesn't indicate its model name or hint at the vehicle's specs or battery range. Thus far, Jeep has introduced plug-in hybrids like the Wrangler Unlimited 4xe and redesigned Grand Cherokee 4xe for sale in the U.S.
The Jeep EV resembles a 100%-electric version of the Compass. That said, Jeep announced its plan to offer an electrified variant of each of its SUVs by 2025. Will the 2023 Jeep EV be the electrified version of the Compass? That remains unclear, but it does create an interesting range of offerings for the iconic nameplate.
We'll email you as soon as the 2023 Jeep EV becomes available.
In terms of charging options, Jeep drivers may have a surprising advantage. A report last year indicated the brand was working with Electrify America to create a charging network at off-road trails. Having said that, we don't yet know if the new Jeep EV will truly be a capable off-roader.
Stay tuned for updates as they become available.