The iconic Jeep Wrangler was fully redesigned for the 2018 model year. With the Wrangler entering its fifth model year on sale, the rugged SUV is expected to arrive as a carryover model. The 2023 Jeep Wrangler should arrive without any major changes. A full redesign is likely to be in the cards for the Wrangler for the 2027 model year.
As a carryover model, we expect the 2023 Wrangler to have the same exterior design as the current SUV on sale. The SUV has an iconic design that looks like a box with wheels and a few stylish touches. The chunky fenders, upright design, and short overhangs give the Wrangler its incredible off-roading capability. Jeep's seven-slot grille is located at the front and sits in between circular headlights, while square taillights and a spare tire on the swing-out liftgate are located at the back.
The current Wrangler has a straightforward interior design that should remain the same for the 2023 model year. The simple dashboard design makes it easy to see out of the front of the SUV, while intuitive controls and well-labeled dials are easy to use. Jeep has fitted the Wrangler's cabin with some circular touches like the instrument cluster, steering wheel, horn, and vents for a harmonious feel. The upcoming Wrangler will continue to come with a removable roof and doors, as well as durable materials that are easy to clean.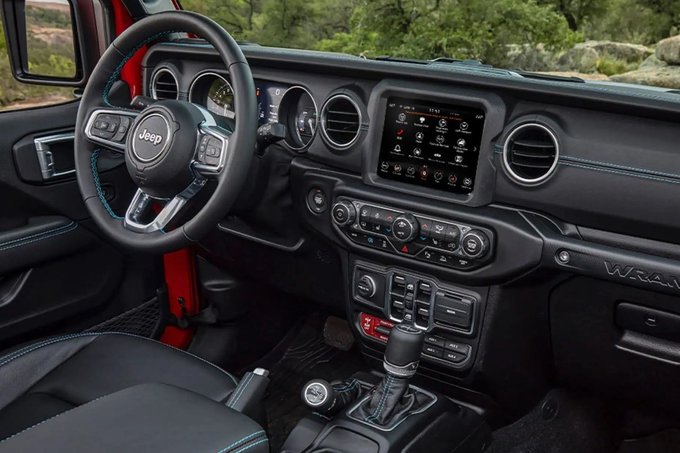 We don't expect to see any changes to the 2023 Jeep Wrangler's list of tech features for the new model year. A five-inch touchscreen should be standard, bringing Bluetooth, two USB ports, and eight audio speakers. A seven-inch and an 8.4-inch touchscreen should be available. Other optional tech features will include Apple CarPlay, Android Auto, navigation, a Wi-Fi hot spot, nine audio speakers, satellite radio, and an HD Radio.
Jeep offers the current Wrangler with five powertrains. These engines should continue to be available for 2023. The Wrangler comes standard with a 3.6-liter V6 engine. A turbocharged 2.0-liter four-cylinder engine, a 3.0-liter turbodiesel V6 engine, a 6.4-liter V8 engine, and a plug-in hybrid turbocharged 2.0-liter four-cylinder engine with two electric motors are available. A six-speed manual transmission and an eight-speed automatic transmission are offered on the Wrangler. Four-wheel drive is standard.
The only standard safety feature the Wrangler comes with is a rearview camera. Forward collision warning, automatic emergency braking, adaptive cruise control, blind-spot monitoring, a rear cross-traffic alert, rear parking sensors, and a forward-facing camera are optional.