Mercedes-Benz is looking to expand its lineup of all-electric vehicles. The all-new 2023 Mercedes-Benz EQE sedan can be boiled down to being a smaller version of the EQS. While the EQS represents an electrified version of the S-Class, the upcoming EQE can be seen as an all-electric sedan that's similar to the E-Class.
Unsurprisingly, the 2023 Mercedes EQE shares a lot of the same exterior design elements as the larger EQS. The exterior has smooth body lines and rounded edges to be able to slip through the air. It features a wide, grille-less front end with oval headlights. The rear end has an integrated spoiler, a rear taillight that runs the whole width of the sedan, and a sweeping roofline.
Since the 2023 EQE has a wheelbase that's 3.5 inches shorter than the EQS sedan's, it's not nearly as roomy in the back. Despite that difference, the EQE has a similar interior design. In stock form, the EQE has two large displays that sit relatively low in the dashboard, which has a full-width trim piece that's integrated with the air vents. The available Hyperscreen turns the EQE's cabin into a cutting-edge computer on wheels with enormous screens that dominate the entire dash.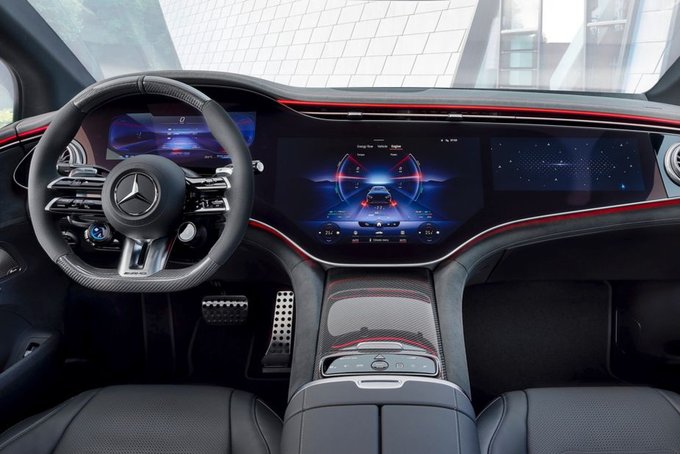 As standard, the 2023 Mercedes-Benz EQE will come with a standard 12.3-inch touchscreen and a 12.3-inch digital instrument cluster. Other standard features include smartphone compatibility, a wireless charging pad, a fingerprint authenticator, a Burmester audio system, a "Hey, Mercedes" voice recognition system, and the MBUX infotainment system. Available features include a 17.7-inch touchscreen, a 12.3-inch touchscreen for the front passenger, navigation, augmented reality, and USB-C ports.
Mercedes will offer the 2023 EQE with two different all-electric powertrains. The EQE 350 will come with a single electric motor on the rear wheels and a 90.6-kWh lithium-ion battery pack for a total of 288 horsepower. The vehicle has an estimated range in excess of 300 miles. The AMG EQE has dual electric motors for up to 677 hp. The vehicle has an estimated range of 250 miles.
Mercedes-Benz hasn't confirmed all of the 2023 EQE's safety features yet. The sedan is expected to come with automatic emergency braking, forward collision warning, blind-spot monitoring, lane-keeping assist, and lane departure warning as standard. Available features should include adaptive cruise control, a hands-free semi-autonomous driver-assist system, a driver-attention monitor, evasive steering assist, and intersection assist.