2023 Mercedes-Benz Vision EQXX Preview Model Info & Release Date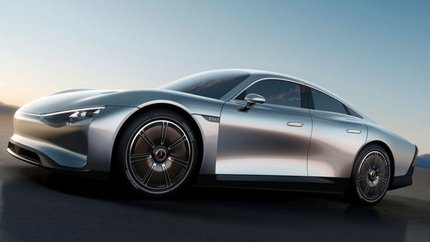 Model Preview
Already touted as the most-efficient vehicle Mercedes-Benz has ever built, the all-electric "software-defined research prototype" known as the Vision EQXX will be unveiled to the world on January 3. Mercedes credits mastering the natural elements of air, gravity, and energy for over 100 years to get to this point.
A combination of improved aerodynamics, lightweight sustainable materials, and innovative battery development allows for the Vision EQXX EV to travel an estimated 621 miles on a single charge in real-world road conditions. For reference, potential competitors of the Vision EQXX electric car — the Tesla Model S and the Lucid Air — see an estimated range of up to 375 miles and 520 miles, respectively.
Mercedes-Benz seeks to set the bar even higher by improving the aerodynamics beyond that of the EQS-Class, which "boasts the lowest drag coefficient ever seen in a production vehicle," according to executive Markus Schäfer of Daimler AG. Additionally, with the utilization of lightweight and sustainable materials, Mercedes has engineered what they refer to as a body that is "light as a feather yet solid as a rock."
We'll email you as soon as the 2023 Mercedes-Benz VISION EQXX becomes available.
With the integration of an innovative new electric powertrain, advanced software, as well as a bunch of smart efficiency systems, we expect the price tag will start above the most expensive Mercedes-Benz EQS-Class. It's worth noting that EQS-Class pricing currently ranges from $103,360 to $120,105 including destination.
Stay tuned for updates as they become available.
Pictured: Mercedes-Benz Vision EQXX Prototype