It's been just over a decade now since Nissan first introduced the Leaf to the public and it became the world's first popularized EV. It's seen a few changes over the years with the last redesign being in 2018. While not a redesign, for the 2023 model year, Nissan will be giving the Leaf a refresh.
The 2023 Leaf will be available in only two trims, the S and SV PLUS, as Nissan has stated it wants to limit the Leaf's line to reflect the most customer-requested models, features, and technologies at the best value.
What this looks like evidently is a refreshed exterior that includes a new front grille, bumper molding, and headlights that now have a black inner finish. The brand's newly designed badge on the front of the grille now gets illumination as well. The four tire deflectors, as well as the rear under diffuser and rear spoiler, have been reshaped for better aerodynamics, and new five-spoke, 17-inch, aluminum-alloy tires now come standard on the SV PLUS trim.
On the inside, changes are rather minimal. To start, Nissan's new badge is front-and-center on the steering wheel and there is a new start-up video on the instrument screen. For the upholstery, black cloth is now standard on both trim levels with gray finishers for the S trim and gloss black finishers for the SV PLUS trim.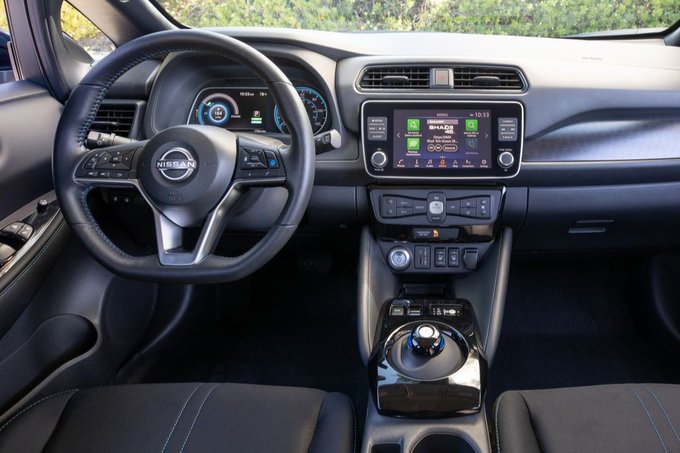 The 2023 Leaf's two trims have different motors to run them, and the range for them is estimated to be similar to the 2022 models. For the starting S trim, Nissan has equipped it with a 40kWh lithium-ion battery and a 110-kW electric motor. The EPA-estimated range for this is 149 miles and it is expected to give 147 horsepower and 236 lb-ft of torque. The higher SV PLUS trim is equipped with a 60kWh lithium-ion battery and a 160-kW electric motor. The range on this is estimated to be 215 miles and it is said to give 214 horsepower and 250 lb-ft of torque.
Nissan also took care to add some safety features to the upcoming Leaf as well. To start, every Leaf's battery pack is offered with a warranty that covers defects for eight years or 100,000 miles. Also available for either eight years or 100,000 miles is a limited warranty for battery capacity loss below nine bars. More than just warranties, however, Nissan has also given ProPILOT Assist4 as standard on the SV PLUS trim. This includes steering assist, Intelligent Cruise Control, and stop and hold function.