Tesla unveiled its wildly styled Cybertruck in 2019 to a wide range of responses. We previously reported that production has been delayed until sometime in 2022, but now that's expected to be pushed back to early 2023. Rumors have circulated that Tesla is changing things up to stay competitive in the EV truck segment. Here's what we know about the 2023 Cybertruck and what to expect when it arrives.
Visually, the Cybertruck arrived with an eye-popping design that looked like it was ripped straight from a movie based 30 years in the future. It boasts a triangular design that is sure to catch more than its fair share of stares, including a one-piece LED headlight and taillight bars, a bed that closes off to form what Tesla calls a vault, and rugged off-road rubber. Its cold-rolled steel body resists denting but also creates a secure shell to keep everyone safe inside.
Speaking of inside, the Cybertruck will seat up to six adults in its cabin. In the initial images, this cabin looks very simple, much like other Tesla models. Its dash will be flat and clean, and the only real user input happens on its 17-inch touchscreen. Storage will be no issue inside this pickup with its compartment under the second-row seats.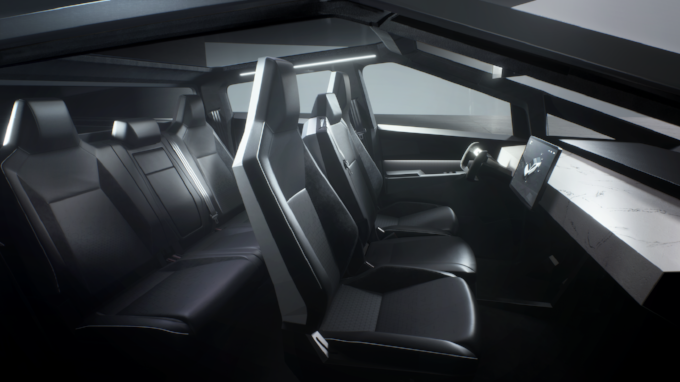 Like other Tesla models, the 2023 Cybertruck will have a handful of powertrain options, ranging from relatively mild to insane. On the mild side will be the base model with a single motor and rear-wheel drive. This model will deliver a sub-6.5-second 0-to-60 time, over 250 miles of driving range, and over a 7,500-pound towing capacity, per Tesla estimates.
The next powertrain option will be the dual-motor all-wheel-drive model that Tesla estimates will deliver over a 10,000-pound towing capacity, a sub-4.5-second 0-to-60 time, and over 300 miles of driving range. The top-of-the-line Cybertruck will be the tri-motor all-wheel-drive model that will deliver a Tesla-estimated sub-2.9-second 0-to-60 time, over 500 miles of driving range, and over a 14,000-pound towing capacity.
That said, in an odd move this past October, Tesla removed the Cybertruck's pricing and specs from their website leading us to speculate that we may see some changes in pricing and configurations as we get closer to the production date. So, perhaps the rumors will prove true.
Tesla hasn't announced much in terms of safety gear in the 2023 Cybertruck, but it did mention it'll boast partial self-driving, which will convert to full self-driving in the future. The IIHS is not fond of throwing Tesla's expensive electric vehicles into walls, but it has in the past. These past tests did not bode well for the Model S, but the Model 3 made up for it as an IIHS Top Safety Pick+. Given the level of tech going into the Cybertruck, we expect it to fall in line with the Model 3's safety ratings when it becomes available.