Despite coming out in 2010, the Toyota 4Runner is expected to arrive as a carryover model. Reports indicate that the 4Runner will get a full redesign in 2024 with a new look, an available hybrid powertrain, and more high-tech features.
As a carryover model, the 2023 4Runner will share the same exterior design as the SUV that's currently on sale. The current 4Runner features an aggressive design with a split grille and a massive air intake. Chunky front and rear bumpers, large fender flares, and a blocky design highlight the 4Runner's rugged character.
Toyota isn't expected to make any changes to the 4Runner's interior for the 2023 model year. The SUV should retain a sturdy interior design with large dials and a large number of physical buttons. A small touchscreen is integrated into the dashboard, while the 4Runner has three large analog gauges. The 4Runner is available with an optional third row of seats that should continue to be available for the upcoming year.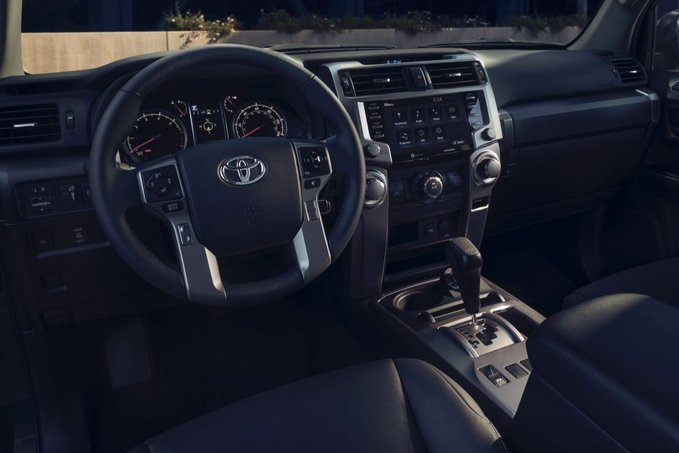 On the tech front, the current 4Runner comes with an eight-inch touchscreen, a Wi-Fi hot spot, Apple CarPlay, Android Auto, eight audio speakers, Bluetooth, and Amazon Alexa. Available safety features include a JBL audio system and navigation. These features should continue to be available for 2023.
All Toyota 4Runners come with a standard 4.0-liter V6 engine. The motor is rated at 270 horsepower and 278 pound-feet of torque. The engine is paired with a five-speed automatic transmission, while four-wheel drive is standard. This engine is expected to go unchanged for 2023.
The 2023 4Runner should continue to come with forward collision warning, automatic emergency braking, pedestrian detection, lane departure warning, and adaptive cruise control as standard. Available safety features should include arear cross-traffic alerts, blind-spot monitoring, a surround-view parking camera, and parking sensors.