2023 Toyota Cruiser EV Preview Model Preview & Release Date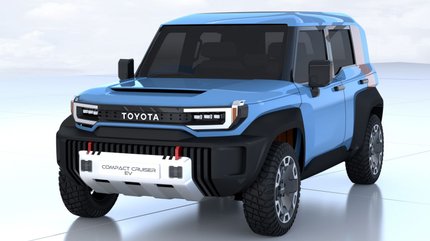 Model Preview
In December, Toyota unveiled a lineup of upcoming battery-electric concept models. Its goal is to offer 30 new EVs across all segments, all in the name of achieving carbon-neutrality by 2030. This model is Toyota's Compact Cruiser EV.
With its unmistakable profile and styling, the Toyota Cruiser EV appears to be based on the off-road-capable compact Toyota FJ Cruiser, which is now seeing a huge spike in popularity compared to when it was in production nearly a decade ago.
Pricing for the Cruiser EV is unknown at this point. However, it's worth noting that affordability is Toyota's priority, rather than focusing solely on the range. Before the FJ Cruiser was discontinued in 2014, it would run just under $30,000 (with destination). We expect the Toyota Cruiser EV to start out at around $44,000.
We'll email you as soon as the 2023 Toyota Cruiser EV becomes available.
The release date info for the Toyota Cruiser EV has not yet been announced, but the launch could come as soon as the end of this year due to Toyota's push to roll out 30 EVs globally by 2030. Not to mention the associated nostalgia that surrounds the long-gone FJ Cruiser.
Stay tuned for updates as they become available.
Pictured: Toyota Cruiser EV Concept