With the Toyota RAV4 Hybrid coming off of a recent refresh in the first half of 2022, we expect the 2023 RAV4 Hybrid to arrive as a carryover model. There's a good chance the 2023 Toyota RAV4 Hybrid will arrive with updated tech features, but Toyota has not come out with any official information on the upcoming model.
Last year, the majority of the RAV4 Hybrid lineup received more aggressive headlights and new wheel designs. The current RAV4 Hybrid features an angular design with deep body lines, a chiseled front end, dual exhaust outlets, and chunky taillights. Toyota offers the RAV4 Hybrid in a wide range of trims that include the sporty XSE with an available black roof and black wheels, as well as the upscale Limited trim with an extra bit of chrome. We expect the design of the 2023 Toyota RAV4 Hybrid to remain the same as the current SUV on sale.
The 2023 RAV4 Hybrid is expected to have the same interior design as the current model that's on sale. The RAV4 Hybrid features a simple interior design with minimal lines and straightforward controls. The infotainment screen sits atop the dashboard, while the streamlined center console flows into the center console bin. Toyota separates the infotainment and HVAC controls for ease of use.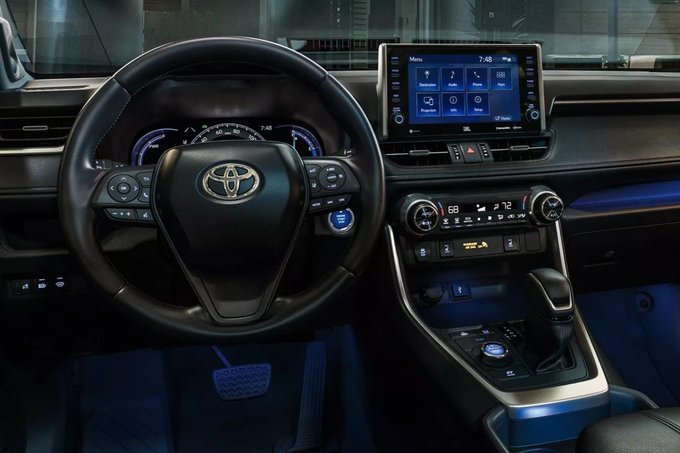 We could see the upcoming RAV4 Hybrid arrive with more tech features, but it's hard to say what those could be. The current SUV comes standard with a seven-inch touchscreen, Amazon Alexa, Android Auto, Apple CarPlay, a USB port, Bluetooth, and six audio speakers. Available features include an eight-inch touchscreen, navigation, four extra USB ports, an 11-speaker audio system, and a wireless charging pad.
Toyota offers the RAV4 Hybrid with a 2.5-liter four-cylinder engine and two electric motors for a combined output of 219 horsepower. A continuously variable automatic transmission is standard with the powertrain, as is all-wheel drive. We don't expect to see any changes for the 2023 model year to the RAV4 Hybrid's powertrain.
Every RAV4 Hybrid comes with a lengthy list of standard features that include forward collision warning, pedestrian detection, automatic emergency braking, lane departure warning, lane-keeping assist, adaptive cruise control, and traffic sign recognition. Available safety features include blind-spot monitoring, rear cross-traffic alert, and a surround-view parking camera. These features should continue to be available for 2023.