2023 Toyota Sports EV Preview Model Preview & Release Date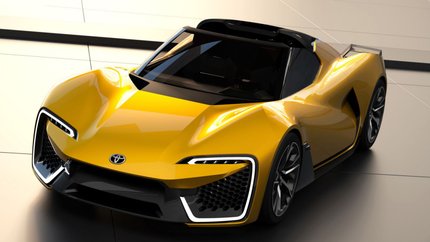 Model Preview
Late last year Toyota unveiled a lineup of upcoming battery-electric concept models. Toyota's goal is to achieve carbon-neutrality by 2030, so to that end, Toyota intends to push 30 new EVs across all segments globally. It's unclear when or if all unveiled EVs will make it to production. This model is the Toyota Sports EV.
Clearly, a 2-seater with side vents, mid-engine proportions, and perceived hardtop the Toyota Sports EV looks like it may be based on the long-discontinued Toyota MR2. Many have speculated that this may be Toyota's way of bringing the MR2 back, but with an electric powertrain and 21st-century styling. It's unclear whether it'll be all-electric or a plug-in hybrid.
Pricing for the Toyota Sports EV is unknown at this time. While affordability is Toyota's top priority right now, this does appear to be a 2-passenger sports car built for driving enjoyment and could carry a hefty price tag when it goes on sale.
We'll email you as soon as the 2023 Toyota Sports EV becomes available.
The release date info for the Toyota Sports EV has not yet been announced. If it does make it into production, we expect that it'll come later than most of the unveiled Toyota EVs due to the nature of it being in more of a niche market. Perhaps it will launch alongside the Lexus EV Sports Car, also introduced at the same time this past December.
Stay tuned for updates as they become available.
Pictured: Toyota Sports EV Concept